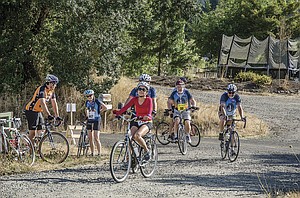 POLK COUNTY — The first year Augi Garred joined Bike MS, an annual event that is part of a national movement and raises money for Multiple Sclerosis research, he was more concerned about how he'd look riding than how his actual journey would go.
"I first started riding as a volunteer in 2012," Garred said. "I wasn't a long distance rider. I showed up on my hybrid bike with a pair of tennis shoes and shorts that looked cool, but were too tight."
He embarked on a 35-mile ride — by far the longest ride he had ever taken.
"I had no idea what I was getting myself into," he said. "I was in pretty bad shape. I was going up one of the biggest hills, and near the top, I came upon a cemetery and thought, are you trying to tell me something?
"Right before I went up the hill, a support wagon drove by that had picked up cyclists who were dunking their heads in ice water. I was tempted to stop and ask for help. At that moment, I thought about my mom (who had MS) and how if she could be on that bike feeling the wind, the heat and even the pain, she would have traded with me in a heartbeat. That kept me going."
Garred's view of the event was forever changed.
Bike MS returns to Western Oregon Aug. 5-7, but you don't have to be a hardcore cyclist to take part in the event — or experience the power that it brings.
"When people come for the first time, they think they're just going to a biking event," Garred said. "I'm doing this because I'm honoring my mom's memory. They may see the camping, drinking beer and the singing, but they don't think about the connections they'll create as a result of that and the heartfelt feeling. It's a community centered around a common cause, not just a ride."

For cyclists looking to join, registration is still open to ride either solo or as part of a team at www.secure.nationalmssociety.org/site/SPageServer/?pagename=BIKE_HOM_splash. Cost is $50 with a $250 minimum of fundraising.
If riding isn't your cup of tea, volunteers are always needed, from checking in cyclists to setting up and cleaning. There are also options for donating online.
Things kick off Aug. 5 with dinner and karaoke.
Saturday, Aug. 6 will offer several routes to choose from with fully-stocked rest stops every 10 to 15 miles. The first day ends at WOU for a campout with a meal, massage, and musical entertainment offered. Aug. 7 concludes the event with breakfast and one last ride, including a celebration after crossing the finish line.
Distances range from easier, flat rides, including one from Monmouth to Dallas, to more challenging rides, including a 100-mile ride.
Through the years, volunteers have seen teams grow in size. Team Road Kill, based in Vancouver, Wash. had four people its first year, Garred said. The team now counts more than 100 people.
"It's almost like a family reunion," he said. "It's very intimate. People get to know each other, set side by side in tents and have a camaraderie because of the reason why we're here."
That reason is to raise money for MS research.
Bike MS raised $741,000 in 2015. They're hoping to crack $800,000 this year.
"Almost everyone knows someone affected by MS," he said. "We want them to live the best possible life. When you see people who have MS, some of them can ride, some of them can't, everyone feels inspired."
Many people come anticipating a fun, cycling weekend. Almost everyone leaves feeling something else entirely.
"People walk away from the weekend, I would say, transformed," Garred said. "You see the power of people who come together around a common idea and who want to do something good in the world. It feels really, really joyful."