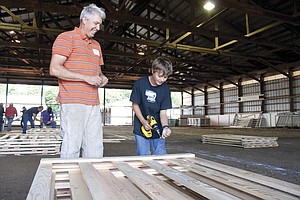 Mel Brown Jazz returns Sunday
The annual Mel Brown Jazz Concert returns Sunday at 5 p.m. at the Main Street Park Amphitheater in Monmouth.
The Henry Ryals Septet will open the show, which kicks off the annual summer jazz workshop at Western Oregon University.
There is no cost to attend.
For more information: www.wou.edu.
Dallas resident in Miss Teen USA

Makaela Bruer, 17, of Dallas, will compete in the Miss Teen USA pageant Friday and Saturday in Las Vegas. Bruer attends the Oregon Connections Academy.
Bruer was named Miss Oregon Teen USA 2016 last fall. She plans to attend Cornell University after high school to study agriculture management.
For more information: www.facebook.com/MissOregonTeenUSA/.
Friends of Library sale rescheduled
Those wanting to find a good read during Summerfest will have to wait until October.
The Friends of Dallas Library will not hold its long-standing Summerfest book sale during 2016. This year the club had decided to hold two sales, one in the spring and a second in the fall.
The next sale will be Oct. 7 and 8.
For more information: Dallas Public Library, 503-623-2633.
Hawaiian uke topic of Friday event
Ever wanted to learn to play ukulele? Dallas Public Library is hosting a theme-appropriate event at the Dallas Civic Center on Friday of Summerfest weekend.
At 6 p.m., Ukulele Fans of Oregon (yes, UFO) will offer a presentation introducing the curious to playing the instrument, followed by a showing of the 2010 film "Mighty Uke."
The event also will be a gauge of interest in starting a club for ukulele players in Dallas, said Library Director Mark Greenhalgh-Johnson.
Clay Lindsey of Koral Jam, a Hawaiian band that will be playing Sounds of Summer on Thursday, said the instrument is quickly increasing in popularity.
"There's clubs all over now," he said. "It's easy to pick up and play and take with you."
For more information, Dallas Public Library, 503-623-2633.
Senior Center hosts 'Chill Out'
Summerfest getting too hot?
Stop by the Dallas Area Senior Center, 955 SE Jefferson St., behind the Dallas Public Library, on Friday and Saturday from 11 a.m. to 3 p.m. to cool off and enjoy lunch.
Hot dogs, chili dogs, sandwich, salads and strawberry shortcake will be for sale.
A craft sale also will take place both days.
Passport shows off Dallas businesses
Returning for a second year is the downtown passport, which gives people incentive to visit are merchants while enjoying Summerfest festivities.
The passport is available to people 18 and older, and features about a dozen businesses and the city of Dallas. The idea is to visit each one, check out what they have to offer, get a stamp on your passport and turn it back in for a drawing for prizes. All you need to do is pick up your passport at the Dallas Chamber info booth, fill it out, and then return for a chance at a prize.
For more information: 503-623- 2564.
Take a plant hike at arboretum
Summerfest Sunday is a leisurely day in Dallas City Park — and a great day for a walk among plants native to Oregon in the Delbert Hunter Arboretum.
The arboretum will host an "open house" — more like an open stroll — Sunday as part of Summerfest's Day in the Park activities.
Check out the interpretative kiosk installed in partnership with the Confederated Tribes of Grand Ronde Ceded Lands Project. The three-sided kiosk displays Dallas history, native plants of the region used by members of the Kalapuya tribes and bands, and maps of traditional Native American tribal homelands.
In addition, arboretum volunteers recently installed a new entrance gate near the "upper meadow" section, part of a continuous improvement project in that area of the arboretum.
And don't forget about the more established parts of the 7.5-acre parcel, including a pond, rhododendron and azalea gardens, and an impressive collection of native trees and plants.
For more information: 503-623-7359.