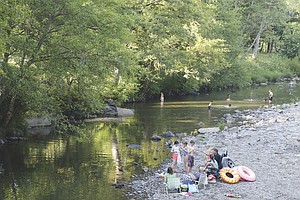 Second Saturday family art returns
Ash Creek Arts Center, 311 Monmouth St., Independence, will host the Second Saturday Family Art Program Saturday from 2 to 4 p.m.
Participants will make Japanese Carp Windsocks with Anna Cottom.
The class is open to children and parents. Children should be old enough to use scissors, glue, tape, etc. No registration required.
For more information: 971-599-3301.
Falls City hosts garage sale
The city of Falls City will host a garage sale Saturday from 8 a.m. to 4 p.m. More than 20 residents are expected to participant. Participants will have garage sale signs in front of their homes. A map of those taking part will be available at Frink's General Store or at the Welcome Booth in front of the Community Center on Main Street.
Young Eagles to hold rally Saturday
The EAA Young Eagles will hold a rally Saturday from 9 to 11:30 a.m. at Independence State Airport, 4803 Airport Road, Independence.
The rally offers free flights for children ages 8 to 17.
All participants will receive ground school training, a free flight, a picture and a certificate.
Ground school lasts about 45 minutes. Flights last about 15 minutes on a first-come, first-served basis.
Young Eagles must have a registration form signed by a parent or guardian, available at the event.
For more information: www.eaa292.org.
WVP Health offers free weight class
WVP Health Authority will offer a free, 90-minute informational session on weight management Thursday from 10 to 11:30 a.m.
The class will be held at the Flaming Medical Center, 1000 SE Uglow St., Dallas.
The session will cover safe weight loss, obstacles and meal planning ideas. Questions are encouraged throughout the session. Information for follow-up support will also be available.
To register or for more information: WVP Health Authority, 503-587-5129 or email to livinghealthy @mvipa.org. On-site registration will be available.
MI YMCA pool to open Saturday
The Monmouth-Independence YMCA pool, 490 I St., Independence, will open Saturday.
The pool will have open swim Mondays through Thursdays from noon to 4 p.m. and 7 to 8 p.m.; Fridays from noon to 5 p.m. and 7 to 8 p.m.; and Saturdays from noon to 4 p.m. Swim lessons, aqua fitness classes and family swim times are also available. For a full schedule: www.the Yonline.org.
Art in the Park returns Tuesday
Art in the Park will return to Riverview Park in Independence Tuesday from 11 a.m. to 12:30 p.m. The Independence Downtown Association sponsors the event, which will be held the second Tuesday of the month in June, July and August.
For more information: www.independencedowntown.org.
Pet store to hold kitten camp
Nature's Pet Market, 4555 Liberty Road S., Salem, will host the Crazy Kitten Camp Saturday from 11 a.m. to 3 p.m.
Kittens will be available to visit and play with. They will be available for adoption at the store through the Willamette Humane Society.
Vendors will be on-site with food samples and a live demonstration of do-it-yourself vaccines.
The store is also a drop off location for donations, including kitten milk replacement, litter, towels, canned cat food and more. The store offers 20 percent off all items purchased for donations.
For more information: Terri Ellen, 503-362-4555.
Sons of Norway to hold celebration
The Sons of Norway and Swedish Lodge will hold a Midsummer Celebration Saturday at 2 p.m. at the Salem Masonic Temple, 1625 Brush College Road NW, Salem.
Traditional activities, including May pole dances, will be offered. Food will be supplied by both Norwegians and Swedes.
There is no cost to attend, but reservations are required.
For more information or to RSVP: 503-910-3302.
Jr. Master Gardener camp hits Dallas
The Junior Master Gardener Day Camp, a two-day program, will be offered in Dallas June 15-16 and in Monmouth June 29-30.
Both camps will run from 9:30 a.m. to 2:30 p.m.
OSU Extension 4-H, Oregon 4-H Foundation and Monmouth Parks and Recreation is sponsoring the event, which is open to all kids in grades kindergarten through fourth. A 4-H membership is not required to participate.
The camp will give youth outdoor learning experiences with natural science, forestry, gardening, herbs, flowers, vegetables, entomology, soils, ecology, crafts and more.
Cost is $25 if registered by Friday, $35 after Friday ($60 family maximum). Scholarships may be available.
The Dallas camp will be held at Dallas City Park and the Monmouth camp will be held at Gentle Woods Park.
Registration and scholarship applications are available at the Extension Office, 289 E. Ellendale, Suite 301, Dallas, or online at www.extension.oregonstate.edu/polk/camp.
For more information: 503-623-8395.
Salem Community Chorus to perform The Salem Community Chorus, which includes five members from Monmouth, will perform a free concert Saturday at 2:30 p.m. at the Salem Library, 585 Liberty SE, Salem.
The group is directed by Anna Robinson and accompanied by Adam Robinson.
For more information: 503-838-3777.
Expert to speak at PCMG meeting
The Polk County Master Gardeners will hold a meeting Wednesday (today) at 7 p.m. at Trinity Lutheran Church, 320 SE Fir Villa Road, Dallas. The meeting is free and open to the public.
Andie Wright from the DeSantis Landscaping Company will discuss variations in landscaping design styles, common plant palettes of the Pacific Northwest and general landscaping challenges.
For more information: 503-623-8395 or online at www.extension.oregonstate.edu/polk/mg.
Masons to honor staff, volunteers
The Lyon Masonic Lodge No. 29, 303 Main S., Independence, will host its annual Strawberry Shortcake Dessert Wednesday (today) at 6 p.m. The event recognizes outstanding classified staff and parent volunteers from each of the five district 13J schools.
People being honored are:
Central — Justin Kramer (staff) and Dale Hedrick (volunteer).
Ash Creek — Nancy Albritton (staff) and Shannon Taylor (volunteer).
Talmdage — Kevin Wiens (staff) and Jennifer Wells (volunteer).
Monmouth — Courtney Landels (staff) and Kelly Cooper (volunteer).
Independence — Ka Her (staff) and Jeannie Scott (volunteer).
Each will be honored with a strawberry short cake, a framed certificate and a local gift certificate of $25.
The lodge will also present two $1,000 scholarships to Bret Meador and Hannah Nelson at Central High School's Senior Awards program.
For more information: 503-838-4051.
Library features NW Coast Art
The Dallas Public Library, 950 Main St., will feature Northwest Coast Art by Blaine Billman throughout June.
The "First Nations" used totemic style to decorate everything from household items to canoes. Billman's artwork showcases the clean, symbolic and dynamic nature of the totemic art form.
Billman's work has been featured in a number of exhibits, including the National Gallery of Art at the Smithsonian.
For more information: 503-623-2633.