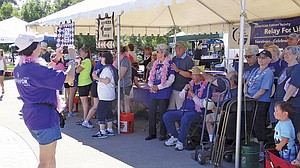 Four graduate from Dept of Public Safety Standards
SALEM — The Oregon Department of Public Safety Standards and Training (DPSST) is pleased to announce the graduation of its 357th Basic Police Class.
The Basic Police Class is 16-weeks in length and includes dozens of training areas including survival skills, firearms, emergency vehicle operations, ethics, cultural diversity, problem solving, community policing, elder abuse, drug recognition, and dozens of other subjects.
The following local deputies will graduate and join the Polk County Sheriff's Department: Thomas Hutchison, Jacob LaCombe, Kelly Lorence and Mike Stevenson.
The Department of Public Safety Standards and Training would like to invite you to join in observing the ceremony and congratulating members of Basic Police No. BP357 on their successful completion of basic training.
The graduation will be held at the Oregon Public Safety Academy at 4190 Aumsville Highway SE in Salem, on Friday at 11 a.m. with a reception immediately following the graduation. Sheriff Mark Garton, of the Polk County Sheriff's Office, will be the guest speaker.
The graduating students appreciate the family, friends and guests who make graduation an appropriate conclusion to their basic training at the Oregon Public Safety Academy.
Dallas water quality report available now
DALLAS — The city of Dallas Engineering and Environmental Services Department has released the 2015 Water Quality Report.
A copy of the report was mailed in every customer's utility bill.
It is available on line at www.ci.dallas.us, and posted at City Hall, the Dallas Library, and the Dallas Aquatic Center.
If you have any questions about the 2015 report, or would like to request a copy, please contact the city of Dallas at 503-831-3562.