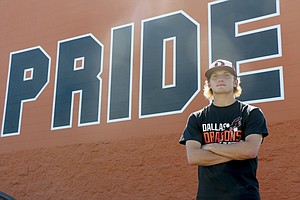 DALLAS — It's something that frustrates Dallas senior Tucker Weaver, perhaps more than anything else when it comes to baseball.
"People think baseball is boring," Weaver said. "That really bothers me. They don't see the fun side of things that we do or the competitive edge. They see someone throw six pitches and a guy finally hits it and he only goes 90 feet. There's nobody tackling anyone and you don't score 60 points a game. But it's not about all the action. It's about the passion."
Weaver's passion for baseball may be unmatched at Dallas High. Perhaps the only thing greater was his impact for the Dragons during the 2016 season.
As the Dragons' ace, he threw 67 innings of work, with 82 strikeouts to just eight walks with a 1.16 ERA, earning the Mid-Willamette Conference's Pitcher of the Year award and helping Dallas advance to the first round of the state playoffs.
"Tucker is a bulldog," Dallas coach Scot McDonald said. "He loves baseball; he loves to compete and he comes through whenever you need him to."
His performance makes him the Itemizer-Observer's 2016 Baseball Player of the Year.
—
It was Tucker's older brother, Keaton, 2013 Dallas High graduate, who first started playing baseball at a young age. Tucker was quick to follow.
"Anything he did, I did," Weaver said. "He became a baseball fanatic, so naturally I was a baseball fanatic. We'd watch recorded VHS films of old all-star games. We played every season, every year. It was a great bonding thing for us."
From those early moments, Weaver made it his goal to get to the big leagues.
"I've been looking at the highest level since I was a little kid," Weaver said. "Ever since we started, I've had a couple of players I was just infatuated with and wanted to be just like them."
Pitchers like Tim Lincecum and Marcus Stroman showed Weaver that undersized players could find their way into the spotlight.
"(Marcus) has this trademark that height doesn't measure heart," Weaver said. "I jumped onto that and I have it stitched into my glove. It's something I really buy into."
By the time he reached high school, Weaver knew he wasn't going to be the most physically imposing player.

"It was a reason why I had to outwork everybody," Weaver said. "It pushed me to separate myself from my competition. I'm not the biggest guy. I'm not the strongest and I don't throw the hardest. But I work hard and compete with everyone. I'm trying to knock them off their throne."
Finding the balance between improvement and being overly critical proved difficult.
"I had trouble with getting past my mistakes," Weaver said. "I was striving to be perfect. That's not realistic. … Baseball, above everything else, is not a perfectionist's game. You get out seven times out of 10 and you can make the Hall of Fame. You can't throw a shutout every time or have a perfect season in the outfield."
Once he realized that, he had more fun and was one of the Dragons' top starters as a junior in 2015. But there was one thing that irked him.
"I thought I had a strong campaign (to be first team all-league) and I had a couple of games that just sank me," Weaver said. "That really, really upset me. I set that bar really high."
He would not be denied as a senior.
"I came in knowing I could be one of the top pitchers in the state," Weaver said.
He lived up to that billing, earning first team all-league and second team all-state honors, thanks in part to the changeup — a pitch that had proven elusive in previous years became a weapon.
"If you have a changeup that's really deceptive, that's probably the best pitch you can have in this game," Weaver said.
As a senior, he also felt the responsibility to become a leader.
"I think that was something that was missing the last few years," Weaver said. "I just wanted to pass along as much knowledge as I could."
Weaver isn't done with baseball yet. He will play for Feather River College in California. After that, he hopes to get a chance to work his way up through a professional team's farm system. He knows at 5-foot-8, he doesn't have the physical build of a typical professional baseball player. But he is ready for his chance.
"I want to be playing this game as long as I can," Weaver said. "If that means being stuck in double A ball not making a whole lot of money, I don't care. It's not about the money for me. It's about being able to be a kid, or that much longer to be able to play a game that was made for kids. Playing that as long as you can is the most ideal life I could possibly imagine. Why not put all your eggs in one basket and put all your chips on the table. You only get one shot at this."