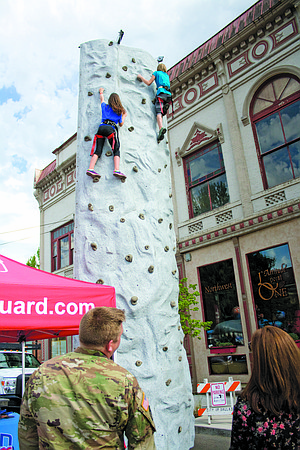 MICC to hold hop and beer mixer
The Monmouth-Independence Chamber of Commerce and Visitors Center will hold an afternoon of networking, hops and beer Thursday at 3:30 p.m. at Rogue Farms.
The event begins with an abbreviated tour followed by samples at Chatoe Rogue courtesy of Rogue Farms.
Afterwards, the event shifts to Arena Sports Bar and Grill in downtown Independence for light refreshments and additional Rogue beers available for purchase.
Rogue Farms is located at 3590 Wigrich Road, Independence. Arena is located at 174 Main St., Independence.
For more information or to register: www.micc-or.org.
Community party at FEFC Saturday
Faith Evangelical Church, 2290 E. Ellendale Ave., Dallas will host a community party Saturday from 6 to 9 p.m.
EOScene, a bluegrass band, will give a free concert. EOScene has performed at several venues, including the Pendleton Round-up, the Oregon Bluegrass Association's memorial gospel show in Portland and will perform at festivals in Idaho and Montana later this summer.
Complimentary pie will also be offered.
For more information: 503-623-8034.
Airport to host appreciation day
Dallas Airport, 1833 SE Miller Road, will host its annual Airport Appreciation Day Saturday from 10 a.m. to 2 p.m. Flight demonstrations, flight opportunities for all ages and a history of Card Park/Dallas Airport will be available. There will also be raffles and food.
There is no cost to attend.
WV Hospice offers day of free training
Willamette Valley Hospice, 1015 Third St. NW, West Salem, will hold a free training day Friday from 8:30 a.m. to 5 p.m. There will be a lunch break around noon. Volunteers may not need to attend the entire session depending on their interest.
Volunteers ages 12 and older are asked to explore opportunities available at the nonprofit agency. Those aged 12 to 16 may provide office support or assist with special events. Volunteers aged 16 and older may help with office support or patient care, including reading, running errands or providing companionship. Respite volunteers give a break to family caregivers and are particularly needed in all areas of Polk County. Schedules are flexible.
For more information: 503-588-3600 or online at www.wvh.org.
Fearless 5K hits Dallas on Saturday
The Fearless 5K will start Saturday at 10 a.m. at Dallas City Park (Levens Street side).
Cost is $15 for children ages 12 and younger and $25 for all others. There is a group rate of $75 for four or more from the same household.
All proceeds from the run will go toward Grace Church's high school Philippines mission team.
A raffle for a Traeger Pro-Tailgater grill will also be offered.
Grace Community offers Bible school
Grace Community Church, 598 E. Ellendale, Ave., Dallas, will offer Vacation Bible school June 27-July 1 from 9 a.m. to noon.
Cost is $10 for one to two kids and $15 for three or more in the same household. The school is open to kids entering preschool through fifth grade.
The theme this year is Cave Quest: Following Jesus, the light of the world.
Register online at www.graceindallas.org.
Dallas Lions to hold fundraiser Tuesday
Ugo's Pizza, 967 Main St., Dallas, will hold a fundraiser for Dallas Lions Club Tuesday from 4 to 8 p.m. All of the proceeds will go toward community service projects including school vision screenings, eye exams and glasses, hearing aids, flags for first graders and scholarships.
Kester to speak at PCHM meeting
The Polk County Historical Museum, at the south end of the parking area of the Polk County Fairgrounds, will hold its monthly meeting Saturday at 1:30 p.m.
The meeting is free and open to the public. Wes Kester, whose family has been in the bee business in Polk County for more than 70 years, will speak about a different aspect of the bee business — bees wax.
For more information: 503-623-6251.