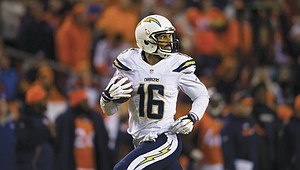 SAN DIEGO — Western Oregon alumni Tyrell Williams made sure his first NFL catch was a memorable one — hauling in an 80-yard touchdown for the San Diego Chargers against the Denver Broncos in the Chargers' final regular season game.
"It's a weird feeling," Williams said at the time. "It was like an out-of-body experience. It was awesome."
That football now sits on display at his home. For some players, it would be a sign of finally making it.
For Williams, it's a sign of better things to come.
"I'm coming in with more confidence," he said. "I'm more comfortable out there and more relaxed while playing."
A familiarity with the offense allowed Williams to work on the finer details of the game and allowed him to transform from just a deep threat to an every-down receiver.
"My route running, being precise and crisp and being able to get separation from the defender, not just on deep balls, but on short, intermediate routes, has improved," Williams said.
The second-year pro also added upper body strength.
"I wanted to make sure I didn't have any problem with getting off the press," Williams said. "I definitely feel the difference."
Others saw the difference during the Chargers' spring organized team activities.
Perhaps the most encouraging was from starting quarterback Philip Rivers, who told the Chargers.com's managing editor Ricky Henne that Williams impressed Rivers with his work ethic and drive.
"(Tyrell) is one of those guys that you saw flashes of (last year that) this guy could be something," Rivers said. "You all saw those flashes. … Gosh, he played at a small school, but if he could come along, he could have a chance. And I think he would even tell you that he's still coming along, but it does look like he's going to have a chance to make the team and help us. We'll see as he continues to progress, but he's come a long way since last year. … He's hungry. He takes every little thing you give him, and I have seen him get steadily get better every single game. … His arrow and game are ascending quickly."
Williams, who practiced with both the first and second team offenses, knows he's still a work-in-progress, but his approach has changed drastically from a year ago.
"Last year, my main thing was to do what I need to do to make the team," Williams said. "I was always kind of nervous and tried not to mess up. For me personally this year, I'm trying to make an impact on the field and be out there every down. I want to make sure I'm ready to go for games. My mentality isn't just making the team anymore, it's making a difference on the field."
Williams hopes that drive allows him to not only land a spot on the Chargers 53-man active roster, but a chance to continue living out his dream and becoming one of San Diego's go-to passing options.
"Every day I come out on the field and I can't believe I'm there," Williams said. "I always make sure I know and appreciate what I have. It's crazy to me to be given the opportunity to play. I want to go out there every single practice and make as many plays as I can."