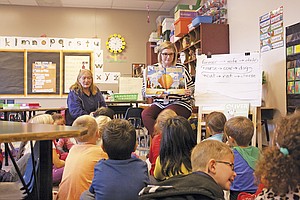 DALLAS — The first year of full-day kindergarten in Dallas School District had students making academic strides, but they had difficulty adjusting to spending six hours in class each day.
The 2015-16 school year was the first many district across the state held full-day kindergarten, after the state agreed to pay for the added class time. In Dallas, kindergarteners attended class for six hours and 10 minutes per day, up from two hours and 30 minutes per day in previous years.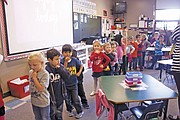 Kindergarten classes are offered at two elementary schools, Oakdale Heights and Lyle. The principals of those schools, Todd Baughman and Caleb Harris, outlined the successes and challenges of the year for the Dallas School Board at its June 20 meeting.
"I think we've learned a lot about what to do with 5-year-olds for six hours and 10 minutes," Harris said. "I think our teachers would choose to do things, not completely different, but they are going to take different approaches, I think, when it comes to September."
The percentage of students recognizing letters and letter sounds increased from 83 percent at the end of the 2014-15 school year to 92 percent in 2015-16. Harris noted that mid-year assessments showed about 80 percent of students had mastered letters and sounds.

Reading achievement increased even more. The percentage of students assessed at or above grade level for kindergarten jumped from 71.5 percent to 84.5 percent. Of those, 64 percent scored very well.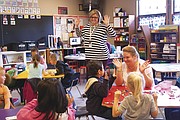 Though no formal assessments were given, Baughman noted that students reached higher levels in writing and numbers.
Baughman noted another highlight.
"On attendance, overall, we have great news in kindergarten," Baughman said.
Lyle had 22 students attending less than the 92 percent threshold, a reduction by half from 2014-15. Oakdale's attendance had 23 of 84 (27 percent) students falling below 92 percent compared to 26 of 76 (34 percent) students the year before.
Academic improvement in 2015-16 means expectations for what can be learned in kindergarten may need to be revised, Baughman said.
Continued from Page 14A
Harris noted there is something educators need to remember, though.
"You also have to keep in mind that they are still 5," he said. "I don't think we should ever forget that. We don't want this to become the new first grade. They are still young."
Longer days were a challenge at times for the youngsters, from a social and emotional standpoint, he said.
"There were a lot of tears, a lot of challenges, longer than it normally takes to get children into routines," he said. "My teachers felt like they needed to keep reviewing the expectations all year long."
Harris said typically by mid-year, teachers are feeling their students have adjusted to school rules.
"By January, my teachers were looking at them saying, 'I don't know what to do with them,'" Harris said. "There were some real challenges. We had some kids falling asleep. We had kids put their heads down in September and October. They were tired."
Harris said the schools and teachers will develop strategies to help children adjust to what is expected of being a student earlier in the school year.
Baughman said the next step in assessing full-day kindergarten is seeing how the 2015-16 crop of 5-year-olds perform in 2016-17.
"I'm interested to hear what first grade teachers say next fall," Baughman said.
In other business, the board:
• Elected Jon Woods as board chairman and Mike Bollman as vice chairman for the 2016-17 school year.