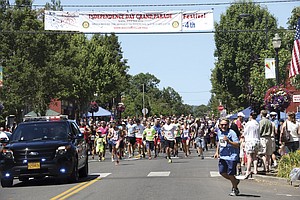 MONMOUTH/INDEPENDENCE — The Monmouth-Independence Mini-Marathon has been a staple on the Fourth of July for more than four decades.
Terry Cable has seen firsthand how the event has evolved through the years.
"As a 10 year old in 1972, I ran the first race," Cable said. "I ran it most years thereafter. It's always been a part of my Fourth of July."
Cable, who took over as race director in 2003, is excited to see the run set for another strong year.
"I think the spirit of Western Days and the Monmouth and Independence Fourth of July celebration makes a run like this attractive with all crowds," Cable said.
"There are already lots of activities going on. It's a fairly simple race. The distance is reasonable, which makes it nice, too."
The run, scheduled for 11:30 a.m. on Monday, leads runners on a 2.6-mile course from Monmouth City Hall to downtown Independence along the Grand Parade route.
With thousands of spectators lining the streets, taking part in the mini-marathon is truly a magical moment, Cable said, especially for those new to running.
"In my experience, the majority of the people are really kind of novice runners," Cable said. "That's part of the fun. For someone who maybe is not as confident in their ability, the little bit of extra encouragement goes a long ways, I'm sure. It makes it more special, helps motivate people and gives them confidence to do it and helps them feel that much better to achieve something like this for everybody to witness."
The weather in Polk County can be unpredictable, but in case of hotter temperatures, Cable said — while the race will also have plenty of water at the start and finish — taking other precautions, like wearing hats, will also help.
For first-time runners, Cable also suggests having a plan for post-race.
"It's a one-way course so you either have to plan on ending up in Independence or have other arrangements in mind to get back to (Monmouth)," Cable said.
Registration for the mini-marathon is available online at www.eclectic0edgeracing.com/Monmouth_Mini_Marathon.html.
Day of race registration will be available on Monday from 8 to 10:30 a.m. near the start line.
No matter if this is your first time lacing up your shoes or you're a veteran runner, the Monmouth-Independence Mini-Marathon remains a pillar of the area's Fourth of July celebration, Cable said.
Cable was there for the first race.
Now, he's excited to see what new memories the run can bring.
"It's so unique," Cable said. "As opposed to some other races where you're running by yourself and there isn't that crowd support, the cheering from the crowd makes this so much more fun. This is just a good, traditional activity that has been part of the tradition of Western Days."