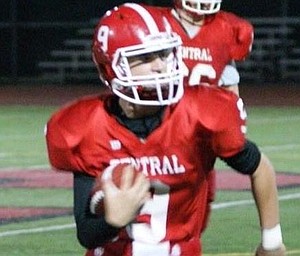 SPRAY — Cody Watson, 16, of Monmouth, died Sunday while swimming with friends at the John Day River near Spray.
Wheeler County Sheriff's Office said they received reports at noon Sunday of a 16-year-old male who disappeared beneath the surface of the river.
Multiple agencies began a search throughout the day.
Watson's body was recovered on Monday morning.
Initial investigations pointed to an accidental drowning.
Watson, a football and basketball player at Central High School, left an indelible mark on all who he met.
"Cody was just like so many other young people that I know in my life," Central athletics director and football coach Shane Hedrick said. "He lived life every day. He was in his Sunday mode and finishing up a small swim excursion they had gone on at the John Day River. He wanted to get the most out of it and somehow fell into an area he couldn't handle, and it took his life.
"He was a very nice kid. When he made a mistake, he owned it. He didn't try to blame anyone else. He was a good kid in the classroom and a good teammate."
A vigil was scheduled for Tuesday after press time.
The Watson family released the following statement:
"While we are grateful for the community support and concern, we would appreciate some space to grieve and make necessary arrangements at this time."
A celebration of life service will be Friday at 7 p.m. at Panther Stadium.
A gofundme to help pay for funeral costs has been set up at www.gofundme.-com/2bk4y2k.
"This is not something any of us plan to do," Hedrick said. "It's more terrible when you're a parent burying a child. To think your son is going to go into his junior year and all of a sudden you're planning a funeral, nobody talks about this. Any help would be very much appreciated."
Central High School had counseling services available Monday morning and at the vigil on Tuesday. The Central Health and Wellness center, located at 1601 Monmouth St., Independence, will also have additional counseling services available during business hours.
The cause of Watson's drowning was not known as of press time, but his loss affected all those whom he touched.
"I'm still kind of numb," Hedrick said. "I received a call from the local police on Sunday and they asked me to notify the family. I've been coaching for 31 years now. I've never lost a player. I've had players lose dads or moms, but never a player. It was heartbreaking to knock on someone's door and tell them their son died in an accident. ... He was taken way too soon."