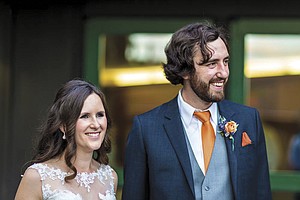 Jensen-Wilfahrt
Carsten Jensen, of Portland, and Sarah Wilfahrt, of Gresham, were married on May 29 at World Forestry Center, in Portland.
Sarah is the daughter of Pam and Jim Wilfahrt, of Salt Lake City. She went to school at Park City High School in Utah, and studied EMS Wilderness Rescue at the University of Utah.
Carsten is the son of Kathy and Chris Jensen, of Independence. He graduated from Central High School, and earned a bachelor's in economics from the University of Arizona.
Sarah works as an apprentice guide dog mobility instructor at Guide Dogs for the Blind, in Boring. Carsten works as an information analyst at Kaiser Permanente, in Portland.
The couple honeymooned on a raft trip in the Grand Canyon. They make their home in Happy Valley.