Wednesday, March 23, 2016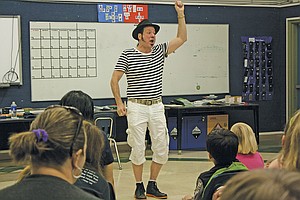 FALLS CITY — The future of the Wagner Community Library in Falls City will be the topic of am upcoming meeting between Mayor Terry Ungricht and library leaders.
Ungricht, Library Director Cynthia Hovind, and Amy Houghtaling, the library board president, were scheduled to meet Tuesday, but it was canceled and yet to be rescheduled.
The mayor mentioned the need for a discussion during the March 10 Fall City City Council meeting during his "mayor's report."
He said he was concerned that funding dedicated to the library is running short, and he hasn't seen much progress in finding resources long-term.
Threatened with closure, Wagner was given an approximately two-year reprieve when the Wagner Trust was released to the city to use for operations in mid-2014.
The trust was originally established to pay for library materials, but the city successfully took the issue to court making the case that under the circumstances, the purpose of the fund should be expanded.
Approximately $168,000 was released to the city to keep the doors open and hire a permanent director while other funding options where explored.
Hovind was hired as director in November 2014 and work began on creating a voter-approved library district including libraries in surrounding communities.
Ungricht said March 10 that he had not seen much progress on that front and worried the library would reach the end of its funding without future plans.
"After this year, it will be below $100,000," he said, referring to the Wagner Trust.
He said if the scenario is as he fears, he would suggest a temporary closure of the library, something which has not been discussed with Hovind or Houghtaling yet.
"My recommendation is if we are not getting citizen involvement and the board is not moving forward to put a district on the ballot and negotiating with the other communities in Polk County, that we close the library at the end of the summer," he said. "I haven't gotten good reports back from our councilors on the library board that we are moving toward what our goal was when we received the Wagner Trust."
His plan would be to save the remaining money until there is interest in forming a district.
Library managers have discussed exploring other options to the library district, but have not spoken with Ungricht about his recommendation.
"This meeting is so we can all get on the same page," Ungricht said.
In other business, the council:
• Approved paying approximately $3,000 for an inspection and market analysis for the former Luckiamute Clinic at 304 N. Main St.

The current owner of the building is considering donating it to the city to redevelop and sell.
The building would need repair work if the city acquired it.