Wednesday, March 23, 2016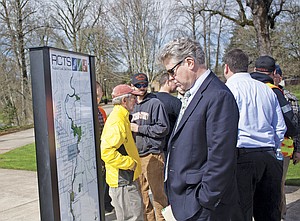 WVH volunteers to host fundraiser
West Valley Hospital Volunteers will host its Books R Fun sale on March 30 from 9 a.m. to 3 p.m. The fundraiser will offer books, gifts and toys at 30 to 70 percent off retail prices. The sale will be held in the main conference room.
Proceeds from the fundraiser are used for the scholarship fund that benefits Polk County high school seniors wishing to pursue a medical-related field.
Dallas Garden Club to meet Monday
The Dallas Garden Club will hold its monthly meeting Monday at 6:30 p.m. at the Evangelical Bible Church, 1175 SE Howe St., Dallas. The meeting will be held in the Builders Room. Topics will include a demonstration on how to create a container garden from an old bird bath that no longer holds water.
Membership is open to the public. Visitors are welcome.
For more information: Gaye Stewart, 503-510-4370.
Sunrise service at Spring Valley Church
Spring Valley Church at Zena will host an Easter sunrise service at 6:30 a.m. on Easter Sunday at the building on Brush College Road near the junction with Zena Road.
Light refreshments will be served afterward.
For more information: 503-623-5770.
Annual doll show takes center stage
The 34th annual Doll Show and Sale will be from 10 a.m. to 4 p.m. on Saturday at the Polk County Fairgrounds & Event Center, 520 S. Pacific Highway (99W), Rickreall.
The show, sponsored by the Wagon Wheeler Doller Doll Club, costs $5 general admission. Children 10 years and younger are free.
An early-bird presale is from 9 to 10 a.m. with $8 admission.
More than 100 sales tables will feature dolls of all types, doll related items, doll furniture, miniatures, bears and toys.
The club donates proceeds to local community groups, Marion-Polk Food Share, the Humane Society and the Union Gospel Mission.
Sales tables are available for $35.
For more information: Arleta, 503-581-1206.
Calmlee's to host book club meeting
Calmlee's Bookstore, 147 SE Court St., Dallas, will have a book club meeting on Saturday at 7 p.m. to discuss the book, "Tuck Everlasting," by Natalie Babbitt.
In April, the discussion will be about "The Giver," by Loise Lowry.
For more information: 503-623-3025.
Winery to hold 'adult Easter hunt'
Chateau Bianca, 17485 Highway 22, Dallas, is hosting an Easter egg hunt for adults in its tasting room on Sunday. Hidden eggs will have special prizes inside.
The tasting room is open 10 a.m. to 5 p.m.
For more information: 503-623-6181 or www.chateaubianca.com.
Easter Brunch at Left Coast Cellars
Left Coast Cellars will host an Easter brunch from noon to 1:30 p.m. on Sunday at the winery, 4225 N. Pacific Highway (99W), Rickreall.
Brunch will be served family-style in the barrel room of the winery. Learn about what winemakers call "the angel's share."
Brunch will feature wines and wood-fired leg of lamb. Cost is $55. Seating is limited.
RSVP or for more questions: 503-831-4916 extension 0.
Alzheimer's class looks at disease
Living with Alzheimer's mid-stage is a comprehensive class about the disease. The class is from 12:30 to 4:30 p.m. on Monday and is limited to 20 to 30 people.
It is an overview of the Alzheimer's journey, as well as some care giving and communication tips for people who have Alzheimer's, and some information about what to expect in the late stage.
The class is about three hours and considered an education program.
The class is free.
Professionals may receive continuing education credits.
Sign up by calling the Monmouth Senior Center at 503-838-5678.