Wednesday, March 23, 2016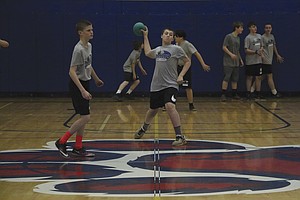 POLK COUNTY — Polk County schools may need to get moving quickly to prepare for a big change coming to physical education.
House Bill 3141, passed in 2007, will increase the number of physical education minutes to 150 minutes per week at the elementary school level and 225 minutes per week at the middle school level beginning with the 2017-18 school year.
"How can you argue against giving kids more physical activity," Central School District Superintendent Buzz Brazeau said.
Finding ways to implement the extra minutes could prove challenging.
In Central School district, elementary schools average about 75 minutes a week, Brazeau said. The middle school grades average approximately 140 minutes a week.
"It would be a significant increase (in minutes)," Brazeau said. "… What you're going to have basically, and this is where I think people have to look at it with regards to reality, in essence, the majority of school districts you're talking about doubling your PE staff at the K-8 level. … I would also ask are there enough PE teachers out there? Is the space available? If we live in San Diego, I can do PE outside most of the time. If I live in Monmouth, I have rain and it can be difficult to do PE outside all the time."
In the Dallas School District, elementary levels average around 90 minutes a week, DSD Director of Instructional Services Steve Martinelli said.
Dallas hopes to explore options where teachers can help ease the burden on facilities and PE teachers.
"What we run into in the elementary level is that we have one PE specialist, so they're schedule is really maxed out," Martinelli said. "Homeroom teachers have their kids all day long. We're working with our PE specialists about some activities that our classroom teachers can do. We just need to be super creative with how we're going to increase those minutes so we have true physical education versus running them out for recess. We want to be very intentional with how we increase this time."
LaCreole Middle School Principal Jamie Richardson said middle school students average 162 minutes a week — 210 minutes during the weeks students have PE three times and 140 when they have it twice.
Richardson isn't as worried about meeting the increase, however.
"In the morning and during lunch we have what we call intramurals," Richardson said. "Formalizing that a little bit more could be just what we need."
Martinelli said they will be trying out different activities and ideas during the 2016-17 school year to see what works and what doesn't.
It's not just the increase in minutes that may prove challenging — it's how to schedule those increases without putting too much of a strain on current facilities.
"Some places have hired two PE specialists and they double teach," Martinelli said. "We think that creates barriers because now we'd have 60 kids in a space that was made for 30."
Both Dallas and Central school districts are exploring possible options to upgrade facilities.
Brazeau said the PE bill calls for grants to help schools prepare for the new requirement, but those grants haven't been made available. He is optimistic that during the next legislative session, state lawmakers will take a look at the upcoming increase and act accordingly.
"I'm doing two things in my mind right now," Brazeau said. "I'm working hard to think about it, the potential issues and solutions. At the same time, I'm trusting the legislature is going to take a look at it and figure out a way to help us get to the target or adjust the target down the road."