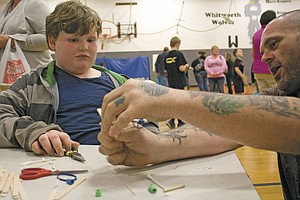 DALLAS — Want to get a fourth- or fifth-grader excited about science and engineering? Give them a chance to build a bow and arrow or catapult.
OK, so not a real weapon of medieval warfare, but one made from Popsicle sticks, Q-Tips, rubber bands and tape.
That was the theme at Whitworth Elementary School's first Stem (science, technology, engineering and math) Night. Tables were set up with all the tools needed and examples of designs. Students, accompanied by their parents or older siblings, were given the green light to experiment.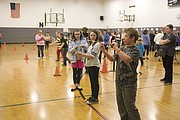 "Launching" areas were set up for kids to test their inventions, firing Q-Tips or sticks at a target. They were welcome to redesign their "weapons" or give another type a try.
Protective goggles were required for good measure.
"This is our second attempt at a catapult," said Sarah Bobeda, helping her son, Devon, with his creation. They were headed to the launch area and Devon seemed excited to put his redesign to the test. They quickly disappeared into a line of kids waiting to shoot at the targets.
Halfway through the event, Whitworth Principal Darlene Geddes estimated about 75 kids were participating in Stem Night.
"We are really impressed with our first ever," Geddes said.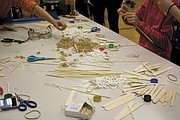 In fact, at the end of the hour, teacher Brian Williamson had to make announcements in the still-packed gym that it was time for students to take their projects — and parents — home.
Kids still were building and testing.
"That's what you want," said Whitworth teacher Jena Vessell, referring to the enthusiasm for the building task.
Vessell is on the school's leadership team that is trying to find ways to incorporate stem education into the classroom.
She's found that the hands-on learning projects are much better at tapping into students' creativity and curiosity.
Fourth-grader Zayne Read with his father, Jeremy Read, paused at one of the tables filled with materials.
They wanted to make Zayne's cross bow-like design shoot the "arrow" in a more predictable manner.
"OK, we are going to do a handle this time buddy," Jeremy Read told his son, showing Zayne how the new and improved bow would work.
Zayne nodded, listening to his father describe how it should shoot after the fix.
When asked what he liked about the project, Zayne didn't mince words: "The main thing is spending time with my dad — without my sister."
Read seemed equally appreciative of the event, which was geared toward family involvement.
"I think it's kind of cool," Read said. "I honestly think this is something they should have done a long time ago."
As and the father-and-son team discovered, the difference between a traditional science class versus stem projects is that isn't necessarily one right answer — and failure is acceptable as long as kids continue to work out the problem.
"Unfortunately, I think we've kind of drilled that out of them in public school," Vessell said. "You can fail at something and it's still an opportunity. We learn a lot from it."
She's found teaching students concepts, such as those common in math classes, is more effective in the midst of a fun hands-on project. Vessell said the schools that have adopted the practice are seeing proof in assessments.
"Schools that use project-based learning or stem education, they've actually found that their test scores increase, and not decrease," Vessell said. "A lot of times you are teaching less content, but more application."
In other words, the age-old question "How will I use this in real life?" is answered.
Developing skills for that "real life" after graduation is the idea behind bringing stem education to Whitworth. LaCreole Middle School has a thriving stem and robotics program, while Dallas High School is developing a CTE program.
"We really want to start feeding that interest and that fire at the younger grade levels so that we can continue to feed into those programs," Geddes said. "As we expand them, it helps prepare the students for college and career."
Vessell sees what the district is developing as positive for both students and the community in general.
"In some districts, stem education has led to more career and technical education pathways. That's something that the business community has support out there for," Vessell said, noting grants are available for those programs as well.
"Kids can get jobs when they come out of school," she added. "I think it's a hopeful direction."