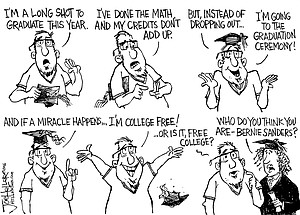 Taylor keeps voters informed on stance
Last week, I opened the Oregon Family Council Voter's Guide to see that Commissioner Jennifer Wheeler declined to answer their questions. The Oregon Family Council polls candidates on issues that matter to many voters. Wheeler does not fill out any of these types of questionnaires. This is unfortunate, because many rely on these guides to make informed voting decisions.
Her opponent, Terrence Taylor, has no difficulty letting voters know where he stands on issues that matter to me. Perhaps it's a good year to turn out incumbents and elect representatives that are more up front with constituents.
Jim Cross
Dallas
Jones is a winning combo for District 23
With the upcoming election and the issues on the table, we are glad to know that Beth Jones is a candidate we can get behind to work for the people of Polk County and Oregon as state representative for District 23. Beth's conservative views, coupled with her compassion for the people of our community, give her what we hope is a winning combination. We have personally seen Beth's work and vision accomplish much and inspire others to move when they would otherwise be complacent. Beth is full of integrity. She is the kind of person we need in the House.
Dave and Amy Bertolini
Dallas
Have an old flag? Call the Legion
Every day many families and businesses throughout Polk County fly American flags, but what can you do with a flag that is old, torn, ripped, faded, and no longer able to be flown? If you think throwing them out is the answer, please consider the American Legion Post 20 and American Legion Auxiliary Unit 20. We will take that old flag off your hands and retire it with honors. Every year the American Legion here in Dallas retires old flags that we have gathered throughout the year. It would be our privilege to take your old flag and help it into retirement. For more information or if you have a flag you would like to be retired, please contact the post: Joe Lillibridge at 503-480-6274, or Beth Lillibridge at 503-480-6254.
Beth A. Lillibridge
Dallas
Jones has what it takes to lead
Being retired has allowed me an opportunity to get a bit more involved in our community. I've known Beth Jones a few years; her knowledge base and ability to get things accomplished is amazing. Her heart for the people and her desire to make life better for those in need is not a campaign "show." I have been to the debates. Beth Jones puts actions behind her words; Nearman skirted around many topics up for discussion. Vote for the person that will listen to and stand up for us all. Beth Jones for State Representative of House District 23.
Linda Wilds-Vanecek
Dallas
Has streets money been misused?
In the recent weeks the mayor of Portland has come out and stated that the money Portland has used to fix it's streets has been used to fund other projects. This is why they are asking for a gas tax increase.
So my question is: Is the city of Dallas in the same position? Has the mayor and city manager used the funds for our streets to fund other projects in the city of Dallas? If the answer is yes, then why do you feel it is necessary to go to the residents and ask for a bond measure?
David Christensen
Independence
Cyclist finds streets in good condition
I am somewhat surprised to see the support for the street bond. As one who has cycled over many of the streets of Dallas, I wish to share my impression of their condition. If anything, cyclists feel poor streets even more than motorists do. Apart from a few short stretches, the streets in Dallas are, in my opinion, in commendably good condition. In fact I have been surprised that sometimes those in better condition are "repaired" while some poorer portions are neglected.
Rodney Stent
Dallas
Helping is the norm for Wheeler
Over the years, I had heard many positive things about Jennifer Wheeler and the work that she has done for the people of Polk County. Until recently, I had not met her in person.

The Mid-Valley Winter Ag Fest took place in late February. Jennifer found time in her busy schedule to work as a volunteer. When it became clear Saturday that the event was unstaffed, she stayed working long after her time elapsed.

This is the norm for her, not the exception. Jennifer Wheeler shows up.
She deserves our vote on Tuesday.
Deb Thomas
Independence
Seniors deserve better choices
I'm so glad to see someone running to oppose (Mike) Nearman. When I tried to get legislation to protect seniors from abuse and exploitation, he was weak, vacillating and useless. We deserve better.
Bert Copp
Monmouth
Longtime helper retries from LMS
Much to my deep regret, I need to end my volunteer position (at LaCreole Middle School) after many years. I have done office work, graded tests, checked out books to students, wrapped new books and mended those that needed preserving for longer use, and filed returned books to the shelves.
I have spent most of these years in the library. I must thank my mentor, Cheryl Scott, for showing me the ropes. I thank Jim Pauls, the librarian, for putting up with my many questions and often interrupting him at his busy jobs.
I also need to thank Cheri Gallino for allowing me to help her these past two years, as much as she would let me. She did most everything herself and didn't' take a break, which frustrated me no end.
Many moons ago, in cold weather, I had car trouble and, in nothing flat, Candy Smith, Alice Struckmeier and Mike, the custodian, had on their coats and came to my rescue. I shall never forget that; and of course, when Mike put the key in the ignition, the car started and I was able to get out of the way of other vehicles coming and going.
Thanks also to the teachers and aides in the special education classroom. They were so friendly to me.
In fact, all of the staff and teachers I met are great.
I have enjoyed my time there, and I will miss everyone. I knew it was Monday morning. Candy always answered me when I asked before I signed in.
It has been my privilege to enjoy my mornings, and I encourage others to volunteer and help at school if you ever get the chance. It's been an experience I'll always cherish. I am hoping to visit and perhaps bring some goodies with me.
Myra Moore
Dallas
Jones would seek answers for district
Vote for Beth Jones for state representative, House District 23.
I've not known Beth Jones as long as many.
She has been and is very active in our community and district on many levels. She's a problem solver who seeks answers for solutions.
Because of Beth, there is a nonprofit called Bambinos which assists many in our community by supplying diapers, wipes and sometimes formula or food in times of need. They also help with sports and activity scholarships.
She is a caring, charismatic lady who isn't afraid of challenges and will do an incredible job.
Deanna Rhoades
Dallas
Taylor has what it takes for county
Too often in politics, it is not what your abilities are, but who you know. In contrast, Terrence Taylor, candidate for County Commissioner Position 1, will bring to the table Fortune 500 company executive level budgetary and planning experience, creative thinking, and common sense. He will be a voice for fiscal restraint with public safety and road maintenance his top proprieties. Additionally, he is opposed to the farming and distribution of marijuana in unincorporated county areas which Jennifer Wheeler, in tandem with Craig Pope, voted for.
A vote for Terrence is a vote for family values and responsible governance.
Rose Bajorins
Falls City
Thompson rational choice for HD 23
Voters of Oregon's House District 23 will have a real choice to make in the primary. Jim Thompson, a highly regarded (by both parties), representative for District 23, was "primaried" by a group of right-wingers who used the fact that few voters turned out in the primary to effect his defeat.
Thompson is running as an Independent Party candidate. The Democratic Party has no candidate, so these voters are voting for Jim Thompson.
Simply write Jim Thompson in on your ballot for District 23 and mark the adjacent bubble. A rational choice when we really need one.
Fred Brown
Dallas
Street bond is no-brainer: vote yes
It is a no-brainer to fix the streets.
Dallas is a great city, one that prides itself on keeping up with priorities. Streets are, and have been, on the high priority list for a long time, and it is time to take it off that list and do something about that, and the time is now.
In the case of street repairs, this major priority has been put aside for way too long. Now we have what we have.
Streets are way below the PCI levels. Do the right thing. It is a no-brainer. Simply vote yes.
Murray Stewart
Dallas
City needs to budget better
I have yet to be convinced that the new tax dollars are needed instead of just being wanted. Annually, the city receives $1.1 million in gas tax revenue, 24 percent is used for repair and 76 percent is spent on overhead.

The city council subsidizes many city services with our general tax dollars but has said no to roads. The city estimates a cost of $26,000 per mile to repair roads or $1,430,000 annually.
Yet the city council has only budgeted $270,000. We need budget policies which ensure money is available to maintain our roads not a new levy.
Jim Williams
Dallas
Jones will find good solutions
Recently I attended the Beth Jones/ Mike Nearman debate. Jones knows the 23rd district, the issues that challenge it, and is willing to work on both sides of the aisle to find solutions to those problems. As a moderate Republican, I appreciated that Jones was willing to look at the issues, repercussions, and long-term effects before blindly supporting them. In a state house that is dominated by Democrats, I feel that Jones' honest, forthright, and agreeable nature will carry our district much further than Nearman's close-minded attitude of stubbornly sticking to his side of the aisle.
Joyce Garland
Dallas
It's time to repair Dallas streets
Dallas neighborhood streets were constructed in the 1940s and 1950s and were not designed for the traffic they now endure. Thousands of vehicles are now driving on our neighborhood streets every day.
Imagine your 20-year roof is now 27 years old and it needs patching or replacing. Our streets are the same way and have outlived their lives of 70 to 80 years. Our streets need repairing or replacing too.
Please vote yes in support of repairing our neighborhood streets. Voting yes shows your pride in making Dallas a great place to live, work, and raise a family.
Ken Woods
Dallas