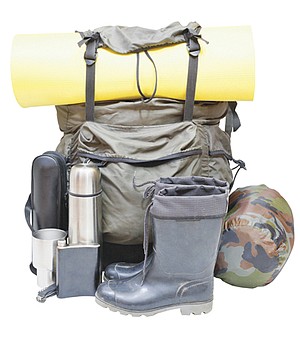 POLK COUNTY — How long could you exist in an emergency without electricity, water and food with what you have on hand at home or work? A few days? A week?
With the Cascadia subduction zone and its potential for a 9.0 magnitude earthquake lurking off the coast of the Pacific Northwest, local leaders would like to see that answer be at least two weeks.
Get ready one step at a time
If compiled over time, building your emergency kit doesn't have to be overwhelming or a financial burden.
In conjunction with the Mid-Willamette Valley Emergency Communications Collaborative efforts, the Polk County Itemizer-Observer will publish a series of tips on what you should place in your kit.
Some things to consider when building your kit:
• Kits can be used on all emergencies, so you are not just preparing for Cascadia.
• In addition to your two-week home kit, you should have a "get home" kit in your car and one for work. Officials recommend keeping supplies for three days in a "get home" kit and seven days in workplace kits.
• When it comes to food, think more than convenience. In a disaster situation having something familiar is comforting, so as much as possible, pack food that you would eat normally.
• Don't forget your pets. They will need a supply of food and necessary medications, too.
A group of government agencies, businesses advocates and media outlets in Polk and Marion counties are working together to help residents achieve that objective.
The group, called the Mid-Valley Emergency Communications Collaborative, wants the two-county region to be the best prepared in the state for the impending Cascadia Subduction Zone earthquake, or any emergency.
MVECC includes representatives from Polk County, the city of Salem, Marion County, Western Oregon University, SEDCOR, The Red Cross, Salem Health (which includes Salem Health West Valley in Dallas), Salem-Keizer Public Schools, and NW Natural.
Media outlets in the partnership include the Polk County Itemizer-Observer, the Statesman Journal, Salem Weekly, CCTV, and radio stations KMUZ, KYAC and KPCN-LP Radio Movimiento.
Ed Flick, Marion County's emergency manager, said it's estimated that less than 10 percent of the population in the Mid-Valley would consider themselves prepared for an emergency of Cascadia proportions. The goal of the group is to provide enough "timely and relevant information" to the public to double the number of people who are ready.
Flick believes it's possible, and more importantly, a civic responsibility for those who have the resources and ability to prepare.
Government will struggle to respond to everyone who needs help in the aftermath of a major emergency like Cascadia, he said.
"The fact is, we are not going to be able," Flick said.
If otherwise healthy people can exist on their own, emergency responders can focus limited resources and personnel on vulnerable groups. The goal of being able to sustain yourself for two weeks is based on the projected amount of time it will take agencies from outside the area to be able to provide assistance to residents, Flick said.
Being prepared includes not just a kit for your home, but for work, a "get home" kit for your car, and a plan coordinating how your family will respond during an emergency.
If that sounds like a lot of time and expense, don't be overwhelmed. You can tackle it piece-by-piece. In coordination with the group's efforts, the I-O will publish a series of articles highlighting ways you can get ready, including a checklist of items that should be in your emergency kit.
Flick said preparing for emergencies isn't just about meeting the short-term needs of you and your family, but the long-term effort of rebuilding your community.
"Experiences have shown that communities that are involved in their own response — out there assisting in their own recovery — recover faster," Flick said.