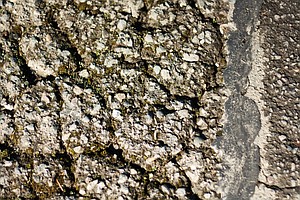 DALLAS — Voters voiced strong opposition to a 10-year, $10 million bond to repair residential streets in Dallas in the May 17 primary.
The proposal, Measure 27-119, suffered a 62 percent to 37 percent defeat, receiving 2,998 "no" votes to 1,803 "yes" votes.
"It's a disappointing outcome," said Dallas Mayor Brian Dalton. "I do believe this was our best and most appropriate way of dealing with a problem that's growing exponentially."
The city estimates it has a $15 million maintenance backlog on residential streets due to insufficient revenue coming from state highway appropriations and the federal gas tax.
Revenue received from those sources pays for operation of the entire street department, which maintains not only streets, but sidewalks and street lights and pays for equipment and materials.
Without adequate funding, the city maintaining just high-traffic areas.
Measure 27-119 would have been the first of a three-step process to solve the problem, which included implementing a fee to cover future maintenance and a second bond to fix the approximately 11 miles of streets not covered with the first.
Now, Dalton said the situation will deteriorate. He said between 2010 and 2016, the cost to repair streets increased by $6 million.
"That's a pretty steep cliff we are approaching," he said. "It's getting worse."
He said kicking the more expensive burden into the future is damaging.
"I think that we are eating the seed corn of the next generation," he said.

Dalton said he believed the campaign in support of the bond was well-organized and provided voters with information via different sources, including a website, social media, live presentations, print advertising, and door-to-door.
That's part of the reason he was so surprised by the margin of defeat.
"I feel the voters had quite a bit of information," Dalton said. "I don't know what more we could have done."
Dalton said two citizens' committees examined the issue and found the proposed plan to be the best option available. With its defeat, the city will have to search for a plan B.
City Manager Ron Foggin said leaders haven't had an opportunity to hammer out how to move forward.
He said he would like to find out more information about why the vote was so lopsided.
"Understanding the 'why' part of it is really important," Foggin said.
Foggin added this is the second attempt the city has made to address streets, and second failure.
"We need to look at how we communication the information," he said. "If we missed that, or there is some work to do on it, we need to figure out what we can do."