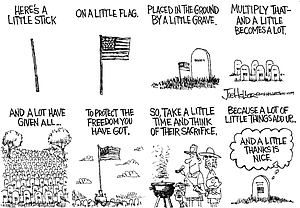 Community comes together for kids
The organizers, leaders, parents, and students of this year's LaCreole eighth-grade Washington, D.C., trip would like to extend a big thank you to the community of Dallas for its support in fundraising this year.
Thanks to the generosity of friends, family and local businesses, a group of 50 students, parents, and teachers will travel to Boston, New York City, Philadelphia, and Washington, D.C., to visit landmarks of our nation's history and culture. Over $14,000 was raised through the selling of pepperoni sticks and holiday pies, the invasion of the flamingo flocks, Ugo's Pizza night, and Dutch Bros gift certificate raffle. This degree of kindness and dedication to kids makes Dallas a great place to live.
From: Eighth-grade D.C. trip advisors, chaperones, parents, and students.
Phil Osborn
Dallas
Many questions left unanswered
Response to the May 18 I-O editorial "Looks public, acts public: Is it public."
Great article. Specifically, "While we respect the right of city managers to meet with individuals in a private capacity, it is difficult to see how public managers, in their public capacity, addressing the public in a public building about a public utility can call the act private."
Independence City Manager David Clyne referred to a recent impromptu meeting with concerned citizens about water rates in Independence as a "private meeting" although it was requested by a citizen on a public site, Facebook. This is a prime example of non-transparency. City leaders are often only transparent when backed into a corner or called out in a "public" format, even then they try to minimize public knowledge by holding a "private meeting."
David Clyne says he prides himself in being transparent. Some non-transparent issues are Minet fees in our water bill, and the sewer fee in part goes to civic center debt service. What are the "City of Independence" fees in every Pacific Power and NW Gas bill? Another issue is the lack of transparency from our city leaders who have discreetly placed fees in other services without explanation. If the city is transparent — why so many questions?
Transparency is: able to see through; easy to notice or understand; honest, open: not secretive. Transparency is all fees separated in monthly bills with explanation. An article in the I-O or a "private impromptu" meeting with a handful of residents is not transparency. Like the editorial said, a much larger meeting place is needed if everyone in the community were notified properly.
Attend City Council — second Tuesday every month, 7:30 p.m. at Civic Center — join other citizens making changes.
P.S. This is a private letter to the public.
Victoria Kruljac
Independence
Keep aquatic center open for all
I was very concerned to learn (a) Dallas City Council(or) is considering closing the aquatic center. The aquatic center is the outstanding attraction in Polk County, with the exception of Western Oregon University.
It serves the elderly, the handicapped, the active adults and the youth of this city.
People come from all of Polk, Marion and Yamhill counties to use this excellent facility. Where would the Dallas High School swim team practice? Or the Blue Dolphins swim team? Where would parents take their children for swim lessons? The facility has a good-sized room available for rental for meetings or parties. It is one of the few places a parent can drop a child off and feel safe about it.
I actually know people who have moved to Dallas because of the aquatic center.
I urge all Dallas residents to contact the city council and mayor to protest any considerations of closing the aquatic center.
Jay Lee Roberts
Dallas
Thank you, mayor
Thank you Mayor Brian Dalton for reminding us how lucky we are to live in the USA on May 16.
Mary Jane Mathews
Dallas