Wednesday, November 9, 2016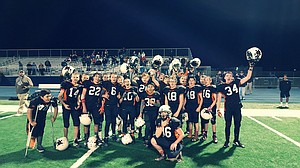 Polk County runners place
EUGENE — Santiam Christian students August Thornton and Ainsley Beam competed at the 3A-2A-1A state cross-country championships on Saturday.
Thornton placed 24th in the boys race with a time of 17 minutes, 36 seconds.
Beam finished 40th in the girls race with a time of 22:11.
Pop Warner team wins title
DALLAS — Dallas' Pop Warner Juniors varsity team won the Mid-Valley Championship on Oct. 29 after defeating Corvallis 26-8.
Dallas played Vancouver in the regional quarterfinals on Sunday at Reser Stadium. Dallas won 39-26 to advance to the region semifinals.
A photo of the team can be found online at www.polkio.com.
Omlid, Classen earn all-league
POLK COUNTY — Central junior middle blocker Krista Omlid and Dallas sophomore setter Emma Classen earned second team all-Mid-Willamette Conference honors.
Central senior outside hitter Alex Dowdell, sophomore middle blocker Annika Riddell, sophomore libero Elizabeth Chavez and senior defensive specialist Jori Kerr earned honorable mentions.
Dallas senior outside hitter Isabelle Topete, junior middle blocker Tristin Savage, and senior RS Megan Ronco also earned honorable mentions.
Williams catches touchdown
SAN DIEGO — Former Western Oregon football player Tyrell Williams had six catches for 65 yards and a touchdown, helping the San Diego Chargers defeat the Tennessee Titans 43-35 on Sunday.
Williams has 38 catches for 595 yards and three touchdowns so far this season. The Chargers improved to 4-5 overall and are in fourth place in the AFC West behind the Oakland Raiders, Kansas City Chiefs and Denver Broncos.