Thursday, November 10, 2016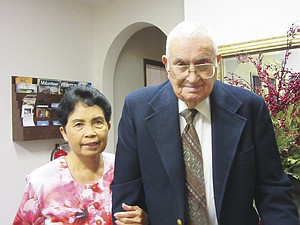 WOU to hold student art exhibit
The Dan and Gail Cannon Gallery of Art, 345 N. Monmouth Ave., Monmouth, will host the New Ventures: Student Design Exhibition Wednesday (today) through Dec. 9.
An opening reception will be held Wednesday (today) from 4:30 to 6 p.m. The juried exhibition features design projects from higher-education institutions in Oregon and southern Washington.
For more information: www.wou.edu.
Oppliger to give presentation
The Independence Heritage and the Heritage Museum Society will hold a presentation from Monmouth resident Al Oppliger Monday at 7 p.m. at the Independence Civic Center, 555 S. Main St.
Oppliger will talk about life in Independence from 1945-1950.
There will be treats available to celebrate the museum's 40th anniversary.

There is no cost to attend.
For more information: 503-838-4989.
Alzheimer's class offered Tuesday
The Alzheimer's Association will offer a "Living with Alzheimer's: For Caregivers — middle stage" class Tuesday from 9 a.m. to noon at Salem Health West Valley, 525 SE Washington St., Dallas.
In the middle stage of Alzheimer's disease, those who are care partners now become hands-on caregivers.
The class will feature caregivers and professionals discussing strategies to provide safe, effective and comfortable care.
There is no cost to attend, but registration is required.
To register: 800-272-3900.
For more information: www.alz.org/oregon.
Oregon Care Partners will offer two classes on Nov. 16: Positive Approach to Alzheimer's and Dementia Care (3 to 5 p.m.) and Living with Alzheimer's for Caregivers: Early (3 to 7 p.m.).
The positive approach class will be held at Alzheimer's Network, 1449 Liberty St. SE, Salem. The caregivers class will be held at Salem Hospital, 890 Oak St. SE, Building D CHEC 2, Salem.
Western Oregon to hold town hall
Western Oregon University will hold a town hall Nov. 16 from 6 to 7 p.m. in the Richard Woodcock Education Center's Pastega Conference Room.
Community members are encouraged to bring suggestions and questions about the university's strategic plan, which will be brought to WOU's Board of Trustees for action in January.
For more information about strategic planning: www.wou.edu/planning.
Coastal Hills Art tour celebrates 25
The Willamina Coastal Hills Art Tour will celebrate 25 years Friday and Saturday from 9 to 5 p.m. in downtown Willamina.
More than 30 artisans and crafters will show and sell their work at nine different locations throughout downtown Main Street.
There is no cost to attend.
"Take the tour" cards and maps will be available at each site. Each artist will donate a piece of artwork for a drawing at the end of the tour for all completed tour cards.
For more information: 503-435-9180.
Old Time Square Dance returns
The Second Saturday Old Time Square Dance returns Saturday from 7 to 9:30 p.m. at Guthrie Park Community Center, 4320 Kings Valley Highway.
Cost is $5 per person. A family rate (four or more; immediate family only) is available for $15. Children 12 and younger are free.
No experience necessary. All dances are taught. Cash & Company will provide live music. The dance will feature Old Time Squares, big circles, longway sets and waltzes.
For more information: www.guthriepark.org.
Chemistry show set for Monday
The Amazing Chemistry Show will be held Monday at 6:30 p.m. in the Dallas High School gym.
Josh Denhart will be performing the one-hour show.
The event is open to all ages. There is no cost to attend.
Seventh- and eighth-grade students will sell popcorn and water to raise money for the Compassion First organization.
Grace Church in Dallas is sponsoring the event.
For more information: www.chemistryshow.blogspot.com.
DHS to perform Shakespeare
Dallas High School will perform William Shakespeare's "Much Ado About Nothing" Thursday through Saturday.
Shows are held at 7 p.m. each day with an additional showing at 2 p.m. on Saturday.
Tickets cost $5 and are available at the ticket booth before the show or online at www.sites.google.com/a/dsd2.org/dallas-high-school-theatre/.
The high school will also perform "The Aristocats" on Dec. 3 at 2 and 7 p.m. Tickets will not be available online.
Motor-Vu Drive In fundraiser Friday
Hot Rod Hair, 662 Main St., Dallas, will donate proceeds from haircuts from 3 to 6 p.m. on Friday to the Motor-Vu Drive In.
No appointments will be taken during this time. Cost is $20.
Theater owner Jeff Mexico will be in attendance to answer questions.
Food trucks from the Oregon Food Truck Association will be located in the back of the Wells Fargo parking lot.
For more information: 503-779-5664 or email to hotrodhair@aol.com.
Master Gardner applications open
Applications for Polk County Master Gardner training are now being accepted.
Application deadline is Dec. 16. Classes will run from Jan. 11 through March 22.
Cost will be $100 or $250.
For more information: 503-623-8395 or online at www.extension.oregonstate.edu/polk/master-gardener-training.
Dallas Yoga hosts donation class
Dallas Yoga and Balance Studio, 115 Court St., Dallas, will hold a community class the second Saturday of each month from 11 a.m. to noon.
Dallas Yoga requests that participants for this Saturday's class bring canned or dried goods to be donated to local food banks.
No experience in yoga necessary. The studio will provide everything needed for the class.
For more information: 503-999-8016.
Dallas to host author Oneill visit
Monmouth author Therese Oneill will give a presentation at Dallas Public Library, 950 Main St., Thursday at 7 p.m.
Oneill will talk about her book "Unmentionable: The Victorian Lady's Guide to Sex, Marriage and Manners."
Copies of the book will be available for purchase at the library.
Everyone at the event will be entered for a drawing for a free copy of the book.
For more information: 503-623-2633.
Elks Lodge to hold Veterans dinner
Independence Elks Lodge, 289 S. Main St., Independence, will hold its annual Veterans Day dinner Friday at 6 p.m.
Veterans are spouses are free. Guests are $5.
Seating is limited. To reserve seats: 503-949-9157.
Sons of Norway to honor veterans
Sons of Norway will hold a Veterans Day ceremony Saturday at 6:30 p.m. at the Salem Masonic Temple, 1625 Brush College Road NW, Salem.
The McNary High School Color Guard will perform. A potluck will also be offered.
For more information: 503-910-3302.
Share the Warmth coat drive begins
The "Share the Warmth" coat and blanket drive began on Monday and runs through Dec. 16.
Windermere offices throughout Oregon and Southwest Washington serve as donation drop-off sites.
New or gently used laundered coats for adults and children and blankets are accepted at Windermere offices in Dallas, 484 NE Bovard Ave.; Monmouth, 297 N. Pacific Highway; and Salem, 4285 Commercial St. SE, Suite 100.
The Monmouth office is also collecting scarves, hats and gloves.
Additional drop off sites include Monmouth Fitness, 165 Main St. E, Monmouth; Independence Library, 175 Monmouth St., Independence; Les Schwab, 121 Main St., Dallas and 1710 Monmouth St., Independence and World Gym, 887 Main St., Dallas.
Donated items will be distributed to those in need by Jinette's Closet, Helping Hands, and Homeless Outreach and Advocacy Project.
For more information: 503-220-1145.
Blood drive opportunities
The Red Cross will hold blood drives in Dallas and Monmouth. A blood drive at Trinity Lutheran Church, 320 Fir Villa Road, Dallas, will be held Friday from 12:30 to 5:30 p.m.
Blood drives at Werner University Center, 345 N. Monmouth Ave., Monmouth, will take place Thursday and Friday from 10:30 a.m. to 4 p.m.
For more information: www.redcrossblood.org.
Economic vitality meeting Thursday
Dallas will hold an Economic Vitality roadmap meeting Thursday at 8 p.m. at the Dallas Community Center, 954 SE Jefferson St.
The meeting is open to the public.
Shawn Irvine, Economic Development Director for Independence, will speak on getting results related to downtown business and property development and community image.