Wednesday, November 30, 2016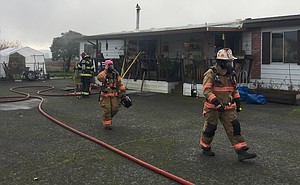 RICKREALL — A family of nine is displaced following a Tuesday morning house fire near Rock-n-Rogers at Farrol's in Rickreall.
Firefighters responded to a call about smoke coming from a manufactured home behind the restaurant at 9:13 a.m. and were on scene by 9:22 a.m., said Dallas Fire & EMS spokeswoman April Welsh.
The occupants of the home, three adults and six children, were not home when the fire started and no people were injured in the blaze.
Firefighters rescued two rabbits from the home. Of the occupants' two cats, one ran away and the other died in the fire.
The initial investigation concluded the source of the fire could have been a pot left on the stove unattended, Welsh said. Further investigation in the cause is ongoing.
"We are working with the Red Cross to come up with housing for the family," Welsh said.
Nineteen firefighters from Dallas, Southwest Polk and Falls City fire departments responded to the fire, which was knocked down by 9:50 a.m. The Polk County Sheriff's Office assisted on the scene.