Wednesday, October 5, 2016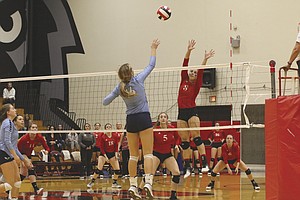 MONMOUTH — Western Oregon's volleyball team has struggled in recent years.
Since going 21-6 in 2012, the Wolves haven't won more than 10 matches in a season. In 2015, WOU went 8-21 overall — 11 of those losses came in straight sets.
The winds of change could be beginning to blow for the Wolves under first-year coach Tommy Gott.
At 5-8, things may not seem all that different, but Western Oregon is showing it can no longer be overlooked. The Wolves lost to No. 23 Western Washington on Saturday, but took the Vikings to five sets before falling 25-13, 24-26, 25-18, 23-25, 15-11.
"I think the match showed our relentlessness and our ability to respond," Gott said. "Western Washington is a great team. They're ranked for a reason."
Among those leading the fight is senior Christie Colasurdo. The defensive specialist arrived at Western in part to become a teacher — although she's on a different path now.
"I changed my mind and decided to study nutrition and become a dietician," Colasurdo said. "But I love the campus and the team was awesome and I wanted to be a part of that."

Volleyball has always presented a unique athletic challenge for Colasurdo — to be part of something where the sum is greater than the parts.
"I love how you have to be a team," Colasurdo said. "There's not one person that you can kick the ball to or pass to who can do it all. You need every single person. It makes this incredible bond that is unique to this sport. If someone is struggling, it's hard because you need all six players all the time. But you bring each other up and that's the beautiful thing about this sport."
On a team featuring six freshmen and six sophomores, learning to play at a high level is all part of the growing process — one that Colasurdo has taken an active role in leading.
"I tell the girls it's going to get harder before it gets easier on, and off the court," Colasurdo said. "It's normal to come to campus and be a little overwhelmed at first. On the court, when you learn something new, it's hard at first but once you master it, it'll become easier and you'll become better."
Western Oregon is 1-2 in conference play and has lost three of its last four matches.
Even as the team has struggled to find wins, matches like Saturday offer glimpses that WOU hints to a future where the Wolves can howl once again.
"We showed (Western Washington) what we're really made of," Colasurdo said. "It's all about confidence, belief and hard work. You have to believe that you can do it, have confidence that you can, and be willing to outwork people. When we have that, we are a force to be reckoned with. I'm excited to see where this team goes."