Wednesday, October 19, 2016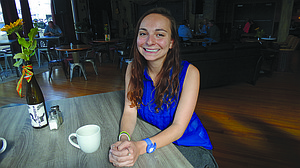 DALLAS — She's only been in Dallas for about a month, but Emma Guida is already a familiar face in downtown.
Guida, 23, is a volunteer with Americorps Resource Assistance for Rural Environments, a program run by the University of Oregon. She will work as the program manager for the Dallas Downtown Association until August — 11 months — focusing on revitalizing the downtown core.
"Historical preservation and revitalization are big aspects, because you guys obviously have so many beautiful buildings here, and that's a big tenant of main street, too," she said.
One of the things that attracted Guida to the RARE program — and to Dallas, specifically — is the diverse agriculture surrounding the area.
"I'm really interested in food and agriculture, and you guys are in the middle of wine country here, and hazelnuts, and all this agriculture," she said. "I would love to see more of that presence in downtown and in Dallas."
Guida has a big job ahead of her — including gathering ideas and talking with business owners, and then putting together a plan of action that will be sustainable after she leaves next year.
To get started, Guida will work on a website for DDA, as well as Facebook.
"There are a lot of signs from old businesses who are gone that we're trying to work on getting those down," she said. "Starting out with specific things like that, and then I just came from a focus group for the economic vitality roadmap."
One of the biggest challenges will be when it comes to building owners.
"One thing I've been hearing from everyone is that rent prices are almost prohibitively high, and the landlords are absentee landlords, so they don't have a stake in getting renters," Guida said.
It's a sentiment throughout Oregon, brought up at the Oregon Main Street Conference in Astoria last month, Guida said.
Attracting new businesses while helping existing ones keep their doors open is a big part of revitalizing downtown.
"The business downtown is tricky, and it's something that seems to be a universal concern," Guida said. "How do you stay in business and attract new businesses? Dallas isn't right off a major highway, you have to put in a little more effort to get here. I think that's a major obstacle. I've heard from business owners that even drawing customers from Dallas is an issue."
The community can get involved through volunteering at events, but perhaps the biggest way the community can make an impact takes less commitment than that.
"Just come out and participate," Guida said. "That's probably the biggest way the community can be supportive. And don't litter."
Guida enjoys the outdoors and is looking forward to her schedule slowing down enough to explore Polk County's wine country, biking and hiking trails, as well as local food sources.
"I like reading and cooking," she said. "I'm really into all aspects of food."