Wednesday, October 19, 2016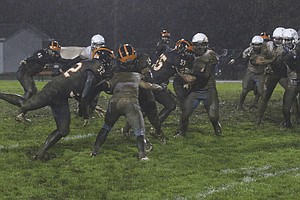 DALLAS — By the start of the second quarter on Thursday, Dallas junior Brycen Grillo was sure of one thing.
Dallas' football team was locked in a scoreless tie against Corvallis and needed a spark.
"I knew the offense wasn't working the way they usually do," Grillo said. "I knew the defense was going to have to something to win the game."
Wet and muddy conditions meant moving the ball on offense would be difficult at best.
The Spartans, after an intentional grounding penalty, was punting from its own end zone.
This could be Dallas' best shot, Grillo thought.
Grillo came through, blocking a punt out of the end zone. The safety was all the Dragons needed for a 2-0 Homecoming win.
"I think they showed a will to win," coach Tracy Jackson said. "It was a really tough situation that they worked out of."
The weather wreaked havoc on both teams.
In the end, two missed field goals by Corvallis meant Dallas earned a hard-fought victory.
"It's amazing we could persevere through not being able to get our offense going," Caedmon Blair said. "It's just amazing the fight that our guys have, the will to win and how much we love each other and this game."
The game featured lots of miscues, from bobbled snaps to dropped passes.
The thrill of victory made struggling through the difficult weather conditions worth it.
"It was a blast after we won and we got to celebrate," Blair said. "It was definitely fun because we've been playing on turf lately and you never know when a guy was going to slip or miss a block. It's a fun type of football."
Dallas (6-1 overall, 3-1 Mid-Willamette Conference) has little time to enjoy the victory.
The Dragons play at Crescent Valley Friday in a key league battle.
The Raiders enter the matchup with a 1-3 record in league play, but could present a stiff challenge.
Two of the team's three losses came by seven or fewer points.
"We're taking it one game at a time," Blair said. "At Central, it didn't work out so we know what both sides feel like."