Wednesday, October 19, 2016

DALLAS — The Dallas Area Chamber of Commerce and Visitors Center's new chief executive officer is a hometown boy.
JD Shinn, who the chamber announced Friday would be its leader, grew up in Dallas and graduated from Dallas High School in 1998. Shinn and his wife of 13 years, Raelyn, have four children and live in West Salem.
His official first day is Wednesday (today) and he said he's excited get to work on behalf of Dallas.
"I'm quite thrilled to have the opportunity to serve the town I grew up in," Shinn said in a statement from the chamber. "It'll be incredible to be a part of helping Dallas continue growing and build on its successful foundations."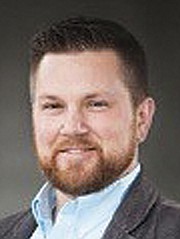 Shinn spent nearly two years with the Salem Area Chamber of Commerce under a contract with Incite Inc., where he participated in a workforce development project called the Career Achievement Network. That project focused on helping young adult get first-time work experience.
He said working with the Salem chamber helped him realize the positive impact the organizations can have on a community. He wants to bring that to Dallas.
"I want to take a leadership position and push Dallas to the next level as far as commerce and community involvement," he said in an interview Friday.
Shinn has a Bachelor of Arts degree in management and organizational leadership from George Fox University. He will lead the chamber and visitor center, taking over for former executive director Chelsea Metcalfe. She is stepping down to focus on event planning and other programs for the visitors center.
One of his first tasks is evaluating both the chamber and visitor center operations, and making recommendations for changes and improvements. Shinn said he will be asking for the community's feedback during that process.
"My goal for the first 90 days is to have conversations with people," he said.
He wants to talk about what is lacking in chamber services and what has been successful.
"One the highest priorities for me is to hear from the community," he said.
In a joint statement, Chamber President Joel Giusti and Visitors Center President Susan Morrill said they were pleased to have Shinn on board.
"Having considered many options, the boards of both organizations feel this strategic restructuring will position them to better accomplish their respective missions," they said in the statement. "JD is uniquely qualified to take the helm as we redefine the roles the chamber and visitors Center take in the Dallas community"
Shinn will work closely with Metcalfe and Bonnie Dreier, with the visitors center, to learn about the organizations with an eye toward improving the value of chamber membership.
"I couldn't be more excited about JD joining the team," Metcalfe said. "We have worked together in different capacities over the years on special projects, and I believe he will be a catalyst in leading both organizations to new success levels."