Wednesday, October 26, 2016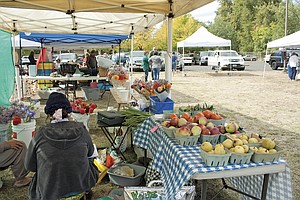 DALLAS — Polk County Bounty Market in Dallas had its best season yet — by far — in 2016, according to Market Manager Bonnie Dreier.
It's seventh season saw vendor numbers, attendance and sales all up by significant margins compared to 2015.
By the numbers
Polk County Bounty 2016
36 Total vendors
19 Weekly vendor average
9,333 Customers
$89,600 2016 sales
$410,000 Total sales
Chelsea Metcalfe, who was the Dallas Area Visitor's Center executive director during the 2016 season, gave the credit to "Bounty Bon," Dreier.
"When we started Bounty Market, Bonnie and I were doing our planning, we would feel like we were successful if we had 10 vendors every week," Metcalfe said during the market recap meeting on Oct. 18. "We — she — has practically doubled that. She had an average of 19 vendors every single week this year. That takes a lot of work and a lot of effort."
In total, 36 vendors participated in the 2016 season,
The season runs from the first Thursday in May to the last Thursday in September at the Academy Lawn at Main and Academy streets.
In that time, Bounty had 9,333 customer visits.
"To have it jump over 2,000 people, that's huge. This was huge for us," Metcalfe said.
Those customers spent an impressive amount, too: $89,600 and that estimate may be a little short.
"There are some vendors who don't want to do stats, so this is approximate," Dreier said.
That is up from $50,600 in 2015 and brings the total to $410,000 in the market's seven-year run.
"I'm so proud of this," Metcalfe said. "I am so proud of you for sticking with this market, working so hard for it. I'm so proud of all of our vendors for putting out an amazing product week after week."