Wednesday, October 26, 2016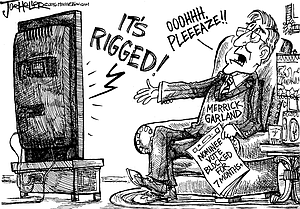 Thompson skilled collaborator
Let's return Jim Thompson to the Oregon Legislature.
I've had the opportunity to work with Jim over the years in his role as the chair of the board for the Polk County Fire District No. 1.
He was a driving force in bringing four diverse agencies together in the newly consolidated district.
He is highly skilled in collaborating and bringing people together, a skill set that is sorely needed in the House.
We need more people like Jim to work across the aisle to help solve the many challenges facing Oregon. Please consider voting for Jim in November.
Don Milligan
West Salem
Wilson, Trahan for Dallas City Council
LaVonne Wilson and Paul Trahan deserve your votes for Dallas City Council. LaVonne has served 32 years on council and continues to promote new ideas and solutions.
She is an advocate for local businesses and fiscally conservative principles. I had the honor of serving with her on council, and found her to be a thoughtful and engaged community leader. It's important to have a mix of fresh faces and experienced members on our nine-member council.
Paul Trahan has much to offer our city as Dallas experiences major growth. We need his expertise in land use planning and development. Please vote.

Beth Jones
Dallas
Nearman protects rights, freedoms
Mike Nearman is honest and reliable, outspoken about protecting our rights to self-defense, to choose life, and to educational and religious freedom. He is willing to fight for average folks to keep what they've earned and not be burdened by unreasonable taxes and unaccountable state spending. I don't want to be represented by someone that will "work together to get things done," if what they get "done" is just plain wrong. I trust Mike Nearman to be fair, consistent and honest. Vote for Mike Nearman to be a voice of reason for House District 23.
Rachel Daberkow
Independence
Garton has right character to lead
Mark Garton represents the character and experience we need in managing the law enforcement efforts in all of Polk County. Mark began his career in police work with Polk County Sheriff Office as a cadet when 17 years old. His active experience in all areas of the sheriff's office, and my personal knowledge, make him the only choice for sheriff.
Since Mark was appointed to the sheriff position, he has restored 24-hour patrols, drug enforcement efforts, and initiated mental health programs.
All of Polk County, including cities, is under the sheriff. Vote for effective law enforcement.
Wayne Simmons
West Salem
Measure will take jobs from Oregon
A corporate employer perspective on Measure 97:
Very recently, I was required to budget mandatory health insurance, sick leave and a huge minimum wage increase, among the highest in the nation. Now, Measure 97 will demand another sizeable chunk of dwindling profit.
My questions: Is Oregon a welcome place for my corporation?
Do I remain and continue depleting the bottom line? Or, do I look elsewhere for lower payroll and less government drain on profit?
If I stay, added expenses will reluctantly be passed to consumers. If forced to leave, thousands of jobs go with me, and I need to pack now.
Joetta Chrissakis
Dallas
Nearman dodges issues for insults
It's easy to see when a politician is incapable of arguing issues.
He turns to mockery, lies and ridicule, hoping to smear opponents.
Hence, the Republican incumbent in House District 23. His efforts use such childish comparisons as "Flip Flops" and "Wolf in sheep's clothing."
Where is the discussion of issues impacting Oregonians? Where are the solutions? He can't argue those because he has no solutions.
How about a candidate who seeks widely acceptable solutions through compromise and negotiation?
A person respected by both parties.
A candidate such as Jim Thompson for District 23. Vote Jim Thompson, get results.
Fred Brown
Dallas
Morett brings new ideas, balance
I would encourage everyone in House District 20 to support Laura Morett. After the last legislative session, especially, we need some balance and new ideas, and Laura's background and pragmatism would make her an asset in that body. Please vote for Laura Morett.
Dean Freeborn
Rickreall
Spread cheer this Christmas season
As we approach the holiday season, we'd like to encourage our friends and neighbors to remember families in our community who need a little help making Christmas special for their children.
The Dallas Adopt-a-Family program matches donors with families needing help to provide gifts for children and a Christmas dinner for the family.
Families needing help can sign up Nov. 14 through 18, 4 to 6 p.m., and Saturday, Nov. 19, 2 to 4 p.m. at the Academy Building. Individuals, families or businesses wishing to adopt a family can email melissa.baurer@usw.salvationarmy.org or call 503-507-6269 for more information.
Kathy Spear
Dallas
Garton respected, trained, ready
When I first met Mark Garton, he was a young cadet. He went on to become a respected deputy sheriff. Mark worked the jail, patrol, and was a detective sergeant. He supervised the Polk County Major Crimes Team and the interagency narcotics team.
In 2015, Mark became Polk County Sheriff. Sheriff Garton is well-respected by his officers and staff. Mark is well-trained, well-educated, and has the experience necessary to be sheriff of Polk County. Mark has served his entire career with the Polk County Sheriff's Office.
Join me in voting for Mark Garton for Polk County Sheriff.
Paul Box
Retired Polk County deputy sheriff
West Salem
Re-elect honest, ethical Evans
Re-elect Paul Evans for HD 20. I have known Paul since he was born. Paul has always wanted to be in politics since he was young.
He was class president at both Central and WOU. Paul was a major in the service, deployed many times, putting his life on the line to keep us safe.
Paul is an honest and ethical man. He is exactly what our great state needs.
Penny Linwood
Dallas
Thompson works for wine, ag biz
I am writing this letter to urge the voters of District 23 to support Jim Thompson for State Representative.
In my 25 years in the Oregon wine business in Polk County, Jim has been the most supportive and knowledgeable candidate for the Oregon wine industry and all other agricultural businesses in Oregon.
District 23 is one of the largest wine regions in Oregon and needs Jim to fight for increased tourism and sane land-use laws for the betterment of all Oregonians and our economy.
He has a proven record of working tirelessly for District 23 and deserves your vote.
Eric Rogers,
CFO (retired) Eola Hills Wine Cellars
Dallas
Ungricht serves Falls City well
The citizens of Falls City are so fortunate to have Terry Ungricht in the position of mayor.
When the city could not afford to replace the city manager, Terry stepped into this role as well without pay.
I see his vehicle parked at city hall each morning, and it is still there many afternoons on my way home. This is an extraordinary example of community service. Terry is open to any ideas that will benefit Falls City, and he truly represents all Falls City residents. Thank you, Terry.
Gary Barnett
Falls City
Local offices affect you more
The vote that is most important this election season is for your city councilors, mayors, school board members, county commissioners and state government.
Those people make decisions that directly affect your daily life: water and sewer rates, electricity rates, garbage rates, how much your kids school will get in funding, whether it will be a bumpy road to work or not because the roads are maintained, etc. So when you vote on Nov. 8, don't just vote for the president and think you've done your civic duty. Read the whole ballot. Pay attention to who your local elected officials are.
Nearman stands up for values
Our trust must be earned. Republican Rep. Mike Nearman stood for our values and concerns while in the minority in the House. He never wavered from his promise, and he earned our trust. Jim Thompson wavered. He was a Republican, then registered as an Independent and receives much of his funding from the unions, Kurt Schrader and other similar sources. When you "reach across the aisle," which side of the aisle are you on Mr. Thompson? Our trust must be earned.
Alan Minton
Dallas
Vote Garton; keep moving forward
Please join me in voting for Mark Garton for sheriff. Under his leadership and the passage of our public safety levy, Polk County has returned to 24-hour deputy patrols, reinstated the POINT drug team, instituted a mental health crisis response team, and will have a mental health counselor in the jail.

Let's keep the momentum going for all of these improvements by retaining Mark Garton as Polk County Sheriff.
Jean Sherbeck
Dallas
Vote Garton: 'always helping'
I support Mark Garton for sheriff.

As Officer Garton, he came to my granddaughters first-grade class and instructed the kids on safety issues, including gun safety, and "do not touch," "leave the room," "go tell an adult."
She is only 6 years old but tells everyone that if she is ever in trouble, she is going to call Sheriff Garton, because he will always help her.
She was ecstatic when he became sheriff, and for one so young, she tells everyone to vote for "her" Sheriff Garton. I guess "always helping" is a good enough reason for me, too.

Alice Pender
Dallas
Nearman can dish it, but can't take it
Mike Nearman's latest mailer had me laughing so hard I almost cried. He was whining and crying about a mailer against him that was using negative attacks.
He complained this was a low blow. Mike, that's what your campaign was all about two years ago, negative attacks, innuendo and half-truths.
Now that someone is using your tactics, you are whining foul like the schoolyard bully who doesn't get his way?

Mike, it's time to man up and undertake a campaign where you address your solutions to the issues in the Legislature, not whine.
Carol Klover
Dallas
Election signs litter rights-of-way
I find it distressing that several of the candidates for local office have their campaign signs placed in vacant lots and/or in the public right-of-way.
Did they all get permission from the vacant lot's owner?
One candidate has 20 signs on both sides of the road along a 500-foot-long section of state highway.
I know they didn't get permission from ODOT. The Dallas sign code is designed to prevent a free-for-all of visual pollution like you see in neighboring cities.
Are these the same people that will, if elected, be responsible for our sign code and property maintenance ordinances?
Joe Koubek
Dallas
Thompson works with all, for all
Recently I had the opportunity to meet with Jim Thompson. As a Baby Boomer, a rural citizen with a small farm, a retired teacher, and a caretaker for my elderly parents, I have many concerns that cross personal, civic, and family lines.
Jim has an excellent reputation as a man who works across party lines, willing to work with everyone, helping in any way he can.
He had excellent suggestions for dealing with issues I've encountered in caring for my elderly parents.
He is also committed to solving the complex issues that confront rural Oregon.
Re-elect Jim Thompson.
Kris Heath
Rickreall
Dallas coaches thankful for club
A special thanks from the Dallas High coaches:
Wrestling mats, basketball hoops, soccer/volleyball scoreboards — you name it.
The Dallas Booster Club has been shoring-up Dragon Athletics for decades.
Last week they came through big-time once again.
Their annual auction beefs up the accounts of every program at DHS.
This money enables us to buy kids food on away trips, buy that extra equipment, sometimes add an extra coach.
Thank you boosters, for lightening the load (We would rather coach than fundraise).
Tony Olliff
DHS Coaches
Dallas
Gabliks, Wilson deserve re-election
Dallas is blessed to have great people willing to serve on the Dallas City Council. Solid leadership and passion for our city are in critical need. I am writing this letter in support of two extraordinary women, Kelly Gabliks and LaVonne Wilson, who have these traits.
Give the city the leadership tools it needs to move into the future.
Vote for Gabliks and Wilson.
Bob Brannigan
Dallas
Thompson: a yes vote for District 23
At the debate on Oct. 13, we saw a clear difference between the two candidates for HD 23. Nearman would like to represent our district by being a "no" vote and does not plan on working with the majority. If our representative refuses to work with his peers, then our district loses its advocate in Salem. Thompson knows he can disagree with the majority and still work with them. He is able to build relationships to ensure our community wins. We need Jim Thompson fighting for us. Vote for Jim.
Lori Brannigan
Dallas
Thompson effective representative
Jim Thompson was an able and capable state representative through several sessions of the Oregon Legislature. He was effective because he could work with all Legislators. He could sell his common-sense conservative ideas to Republicans and Democrats alike. The Legislature needs hard-working, common-sense representatives of the people as its members. Jim Thompson brings that to the Legislature.
He deserves your vote.
Dave Weston
Dallas
Aquatic center improves life
To everyone who objects to the city helping to support the cost of running the aquatic center, remember that it is part of the Parks and Recreation Department. Parks do not generate any funds, but add to the livability of the town. The aquatic center pays about half of the cost of running it by the income it generates.
The manager has greatly expanded the use of the facility by adding times for special populations, and making the cost affordable for out-of-towners as well as local residents. I've spoken to many from Salem and other outlying towns who greatly value what we have to offer. I know that the city has often used grants to help improve the parks in town, and they continue to provide new opportunities for recreation. Thank you for considering my perspective.
Barbara (Barb) Chrisman
Dallas
Yes on Central bond; yes for kids
A yes vote on 27-122 is a yes vote for the future of education in Central School District. The children are our future. How do we show our children we value their education? How do we show them we value them?
We invest in them. We provide them with the best environment we can to foster learning. A yes vote means more classrooms. A yes vote means adequate lunch time. A yes vote means space for physical education requirements. A yes vote means air conditioning. No new taxes.
Please check out the facts at http://central.k12.or.us/.
Jeannie Scott
Independence
Garton shows dedication to Polk
I have been a resident of Polk County for 68 years. I recently retired from the Polk County Sheriff's Office after 22 years of service as a patrol deputy and detective.
I have had the privilege to work with Sheriff Garton when he was a Sheriff's Office cadet, records clerk, reserve deputy, jail deputy, patrol deputy, patrol sergeant and as my detective sergeant. Sheriff Garton has the experience and dedication to best serve the citizens of Polk County.
Please join me and my family in voting for Sheriff Mark Garton.
Burney Krauger
Monmouth