Thursday, September 1, 2016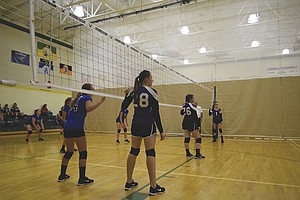 WOU XC picked fourth, sixth
MONMOUTH — Western Oregon's men's and women's cross-country teams were picked fourth and sixth, respectively, in the Great Northwest Athletic Conference Preseason Coaches' poll released on Friday.
Alaska Anchorage was chosen to take the top spot in both polls.
WOU's men's team returns 11 runners from last year, including junior David Ribich, an NCAA national qualifier in 2015.
The women bring back five runners who competed in the GNAC title race last season.
The Wolves' campaign begins Sept. 9, when Western Oregon hosts the Ash Creek Invitational at 5 p.m. at the Ash Creek Preserve.
Cross Creek men's club results
DALLAS — Cross Creek's men's club results for Aug. 20-21:
Club Championship (36 holes, low gross/low net)
Gross: Flight one: Kevin Moen, 154 (club champion); 2, Joe Johnson, 157. Flight two: 1, Darrell Johnson, 168; 2, Brian Halin, 174.
Net: Flight one: Bob Bennett, 134; 2, Lee Taylor, 143. Flight two: Larry Hatcher, 133 (net club champion); 2, Greg Fritz, 147.
Aug. 23
Modified stableford
Gross: 1, Wayne Weathers, 21 points; 2 (tie), Joe Johnson and Jim Schroeder, 18; 4, Rocky Kygar, 17.
Net: 1 (tie), Brian Reed and Don Seth, 30; 3 (tie), Eldon Rivers, Larry Hatchers and Rich Dominick, 29; 6, Vern Smith, 26.
Fall Sports Guide coming Sept. 7
POLK COUNTY — Look for the 2016 Fall Sports Guide in the Sept. 7 issue of the Itemizer-Observer.
Follow the I-O on twitter @PolkIOSports, like us on Facebook and check out www.polkio.com for scores and updates.