Wednesday, September 7, 2016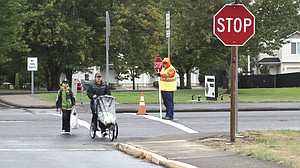 Caterpillar employee potluck
All former Caterpillar Dallas plant employees and spouses are invited to attend a potluck picnic Saturday from 1 to 4 p.m. at Dallas City Park. The picnic will take place at the Seibert-Fredrickson Memorial Shelter.
Attendees are invited to bring food to share and your own beverage, utensils, and folding or lawn chairs.
Coffee will be provided.
For more information: Jerry Bennett, 503-623-2946 or jerglobe@msn.com.
Heritage Museum to host centennial wagon train event
The Heritage Museum Society presents "Trail Ruts: Oregon's Centennial Wagon Train" on Monday at 7 p.m. at the Independence Events Center, 555 South Main St., Independence.
Signed copies of the book "Trail Ruts" will be available for purchase by cash or check.
Author Dick Carter will present on his experience of following the Oregon Trail in 1959. His book tells the history of the original Oregon Trail where his great-grandmother died in 1852, with the story of a group of re-enactors he led to retrace their steps in 1959.
The event is free and open to the public.
For more information: orheritage.com or email to orheritage@minetfiber.org.
National Day of Service project set for Saturday
Volunteers are needed for the 2016 National Day of Service project held at Madrona Park, 1521 Madrona St., Monmouth, on Saturday from 9 a.m. to noon.
Help is requested to clear and plant areas along the nature trails in the east end of the park. Attendees are invited to bring shovels, hoes and rakes.
For more information: Mark Fancey, 503-751-0147.
Jazz festival Sunday at vineyard
The Jazz Festival 2016 will be held Sunday from 1 to 5 p.m. at Kathken Vineyard, 5739 Orchard Heights Road, West Salem.
Featured artists are the Johnny Martin Trio and Djangophiles.
Freedom from smoking class offered
A seven-week series developed by the American Lung Association to assist people in becoming smoke free will be offered at the Monmouth Senior Center. The weekly class will be held Tuesdays from Sept. 13-Oct. 25 from 6:30 to 8 p.m.
The workshop will include a variety of strategies including self-monitoring, relaxation techniques and medication overview.
There is no cost to attend. Class materials, including a course book and CD, are also provided without charge.
To register or for more information: 503-587-5129.
Polk County Master Gardeners to meet Sept. 14
The Polk County Master Gardeners will meet Sept. 14 at 7 p.m. at Trinity Lutheran Church, 320 SE Fir Villa Road, Dallas. There is no cost to attend, and meetings are open to the public.
Karen Maki, owner of the 13th Street Nursery in Salem will discuss container gardening creativity for the fall and winter seasons.
For more information: 503-623-8395.
Ash Creek Arts Center family art class Saturday
The Second Saturday Family Art Class will be held Saturday from 2 to 4 p.m. at the Independence Women's Club, 340 S. Third St., Independence. The class, presented by the Ash Creek Arts Center, will feature paper animal masks with Mary Harden.
Class is intended for children and parents. Children should be old enough to manage scissors, glue, tape and other supplies. The event is free and open to the public.
For more information: www.ashcreekarts.org.
Young Eagles rally on Saturday
The EAA Young Eagles will hold a rally Saturday from 9 to 11:30 a.m. at Independence Airport, EAA Hangar, 4803 Airport Road, Independence.
The rally is open to children ages 8-17. All Young Eagles receive ground school training, a free flight and a picture, as well as a certificate.
Ground school is approximately 45 minutes long and the flight lasts about 15 minutes.
Young Eagles must have a registration form signed by a parent or guardian to participate in the flight.
For more information: www.youngeagles.com/parents/faq.asp.
MI Chamber forum set for Sept. 14
The Monmouth-Independence Chamber of Commerce will host the Chamber forum Sept. 14 at noon at the Independence Public Library, 175 Monmouth St., Independence.
Boxed lunches from Main Street Pub and Eatery are available for purchase for $12. Lunch orders must be received by noon on Tuesday.
To register: www.micc-or.org.
Dallas Church to host guitar clinic
Dallas Church, 450 SE Washington St., Dallas, will host a free guitar clinic Saturday from 10 a.m. to noon.
Please bring your own guitar. The clinic is open to people ages 10 and older.
There is no cost to attend, but donations are accepted.