Wednesday, September 7, 2016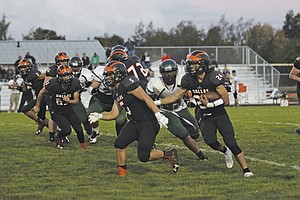 DALLAS — The ground and pound is back.
And Dallas showed just how dangerous it can be.
Dallas' football team cruised to a 47-30 win over Parkrose on Friday. Dallas built a 40-0 lead in the second half and led 40-8 entering the final quarter before pulling starters.
"Our guys were totally outsized," coach Tracy Jackson said. "If you saw the game you'd see someone like Tim Hensley, who is 165 pounds, trying to block a guy that weighs 305. Our guys are fighters, and I think we set a tone early."
Senior running back/linebacker Tanner Earhart scored a pair of first-quarter touchdowns — one on offense and one on defense after recovering a fumble — and Dallas never looked back.
"Up front our line was just dominant," Earhart said. "We were beating them off the ball."
More importantly, it was the team's first season-opening win since the 2013 season — the last time the Dragons qualified for the state playoffs.
"It's nice to get a good win," Earhart said. "You start with an opening loss and we kind of questioned ourselves. There's just a much different feeling — a better, more positive feeling everywhere."
After dabbling with changing its offense to start the 2015 season, the Dragons got back to basics — the run game.
Tristan Evans rushed for 164 yards and two touchdowns. Earhart added 99 yards and Evan Courtney ran for 57 yards and a touchdown. Quarterback Caedmon Blair also rushed for 35 yards and a touchdown.
If one thing was clear to players it was this: they loved getting back to Dallas football.
"It's nice," Earhart said. "It's the offense we ran as a freshman. We're familiar with it and we all love it – downhill, hard-nose, football.
Dallas travels to North Eugene on Friday with what promises to be a stiffer challenge than Parkrose, which saw a new head coach roaming the sidelines.
"We have to become more flawless as much as we can every week with what we're doing," Jackson said. "I think we have a good, solid core, but sometimes quickness can cover mistakes. Everything gets tougher from here on out. North Eugene won nine games last year. They're a lot like us, they're not real big, but they compete. We're going to have our hands full."