Wednesday, September 7, 2016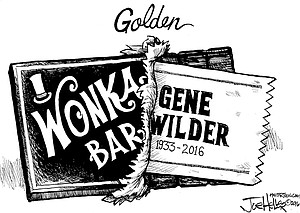 'Survivor' not qualified for office
Those of us in Polk County know there is only one choice when it comes to state representative. Paul Evans deserves to be re-elected to the Legislature. In an interview, his opponent claimed she was qualified for office because she is older than 21 and lives in the district. She now claims she should be elected because she was a contestant on "Survivor." I doubt that qualifies a person for political office. Paul has real experience — in schools, in government, and in the military. He is the clear choice. Please join me in voting for Evans for House District 20.
Jeanne Deane
Monmouth
Road upgrades needed for safety
I travel every day to my job from Dallas, to Portland and several times I have witnessed the setup for a tragedy much like that which took the life of an expectant mother and her unborn child at the exit on Highway 22 just a few years ago. People miss the left turn lane to Route 51 to Independence, and they try to turn in front of traffic to use the exit for oncoming traffic. There is a hill there and oncoming traffic cannot see the obstacle this creates. Last week, it was a full-size pickup, towing a long trailer with heavy machinery. People will continue to break the law. People will continue to lose their lives.
I am an engineer, but any reasonable person can see that the solution is to extend a wall or block the ability for others to cause this situation with permanent orange buoys in the center divider, a cheap fix. I can't believe that after the tragedy of a few years ago, the state has done nothing, the saddest situation indeed.
Randy Wisnia
Dallas
Kudos to Todahl: skate park hero
I was so pleased to see your article about Perry Todahl and his volunteer work at the Dallas Skate Park. We too often read of young people in trouble or with no work ethic or sense of responsibility. This article demonstrates that there are young people all around us that break from the stereotype that many of us accept. Kudos to Perry and to the I-O for printing this uplifting article.
Lynne Bowen
Dallas
Thompson right choice for District
Jim Thompson has the values we need representing this district. Jim has always been a champion for the sanctity of human life and a watchdog for limited government.
The difference between Jim and his opponent is his ability to work effectively — even with people he disagrees with. That is the mark of a true leader.
Any of us could vote the conservative line. We need a representative that can persuade others. Mike Nearman's demeanor and conduct make it impossible for him to do so.
Jim Thompson's professionalism and manner make him the clear choice for House District 23.
Lynnette Henshaw
Dallas
Great Music in the Park, Monmouth
The 2016 Monmouth Music in the Park was a huge success this summer. All of the bands were fantastic. The amphitheater and new restrooms are such an improvement to our city. We are so blessed to have generous sponsors and volunteers that bring this community event to us every Wednesday night during July and August. Special thanks to Bill Foster and Richard Mann for the many hours spent setting up and assisting the bands with their sound needs. Mark Fancey did a great job in spearheading the program and also donating many personal hours assisting every Wednesday night. Congratulations for a fantastic year. We are looking forward to 2017.
James and Sharon Pointer
Monmouth
A veteran's last trip to state fair
After going to the fair this past week, I was very disappointed to go into the building where the veterans' uniforms are displayed along with the veterans, and their stories of their time in the service of our country.
I was told they could no longer pay the fair board for their space to display them. Now, when have we had to charge them to display them, when they fought for our country? I, for one, am a very proud SeeBee veteran of 1961 through 1964, and wore my uniform and was very proud of it.
Yes, we have had to fight the Department of Veterans Affairs to try and get our benefits the past few years, but this is a slap in the face for our fair board to try and get us to pay for this. I, for one, will no longer go to the fair.
Gary Remington
Dallas
'No' vote for Trump
Any person considering voting for Donald Trump should read the New Yorker magazine's July 25 article by Jane Mayer titled, "Trump's Boswell Speaks."
She discusses Tony Schwartz's ghost writing of Trump's bestselling, "The Art of the Deal," which took him more than a year and which taught him much about Trump and his personality.
Schwartz is not voting for Trump, and I am not also.
Walden Joura
Dallas