Wednesday, September 14, 2016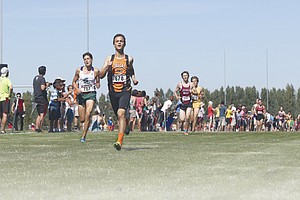 MONMOUTH — What attracts an athlete to cross-country?
What causes an athlete to willingly sign up for a sport centered around what other sports use as punishment?
Dallas sophomore Trevor Cross says it's simple.
"Can I take more pain in training and during a race than the guy next to me," Cross said. "That's distance running."
Cross is quickly showing that he's willing to do whatever it takes to be among the Mid-Willamette Conference's best.
As a freshman in 2015, Cross broke on to the cross-country scene. He set a personal record of 17 minutes, 6.5 seconds on Oct. 14 and took 18th overall at the
district championships, helping the Dragons to a fourth-place finish in the team standings.
He's got bigger goals in mind this fall.
"I'm really close to breaking 17 minutes, and I think for sure I'll do that this season," he said. "It'd be cool to run maybe below 16 (minutes) or get close to 16 flat."
If he approaches 16 minutes, Cross will be in the mix for a berth to the state meet.
Cross took 18th overall at the Ash Creek Cross-Country Festival on Saturday, finishing in 17:07.6, about a second over his PR, despite having a runner stop and have to leave the race right in front of him.
"Trevor is a beast", Dallas coach Monique Lankheet said. "He is competitive, has an amazing work ethic and is very coachable."
During his freshman season, Cross wasn't ready for the level of training that awaited him in high school, including the distance runs and speed workouts.
This time around, he embraced it.
"It was a lot more laid back in middle school," Cross said. "We train a lot harder (in high school). We know that practices will pay off. The harder we work in practice, the faster we will race. We just have to be there for each other, encourage each other and push each other. We keep each other accountable."
He also learned just how cross-country could truly be a team sport.
The boys team finished fourth at the MWC District Championships in 2015, four points away from earning a spot to the state meet.
"None of us were in a position to go to state by ourselves, but as a team, we were really close. We all ran together and trusted each other," he said.
This year, the boys varsity team will look markedly different with five of last year's varsity runners graduated.
But the goal remains simple. Work hard, train hard, and leave everything they have on the course.
"I love the competition," Cross said. "Teaching yourself to endure the pain while racing and seeing if you can do that better than the other racers is a lot of fun."