Wednesday, September 14, 2016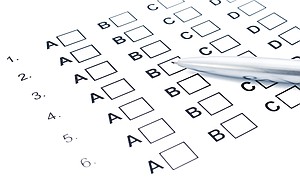 POLK COUNTY — Scores from last year's second round of Smarter Balanced tests in Polk County schools saw improvement — and some fall off — compared to the first year.
School officials note that the test is still new and changing, making analysis of the data difficult.
"I'm not shocked that (the scores) are going up and down, and I expect that for the next couple of years," said Central Superintendent Buzz Brazeau.
Still, he said the data released by the state on Thursday is important, and the district is sharing it with it teachers with an eye toward improvement.
"I think it's important to take this seriously," Brazeau said.
Test scores fell into four categories, with level 4 being the highest and level 1 the lowest. Students earning levels 3 and 4 on the test are considered "college and career ready" for their grade level.
Those earning level 2 or lower are behind. Statewide in all grades, students achieved a level 3 and above at a 55 percent rate for language arts and at 42 percent rate for math.
For last year's high school juniors — for whom the test is one way of showing they have mastered the skills needed to graduate — the state averages were 68.5 percent for language arts and 33 percent for math.
Central's 11th-grade scores fell below those averages, 59 percent and 18 percent, respectively.
But that doesn't mean the district will scramble to graduate more than 80 percent of the Class of 2017.
Brazeau said some of that class had already passed the test under the old format — Oregon Assessment of Knowledge and Skills — and were "grandfathered in."
Others demonstrated those "essential skills" in math and English through work samples submitted in class.
He said taking the test knowing that they had already achieved the skills needed to graduate may have influenced how seriously they took the test.
Brazeau said none of this year's juniors will have taken the OAKS test, so scores should shift upward accordingly.
Dallas School District's scores for 11th grade improved from the first year and were well above state averages for that grade.
Last year's juniors achieved "college and career ready" scores at a 77 percent rate in language arts, compared to 72 percent last year and 45 percent in math, up from 33 percent in 2015.
"That is really good news for us," said Steve Martinelli, the district's instructional services director.
Martinelli noted some marked improvement for last year's eighth-graders, who struggled in the inaugural year of the Smarter Balanced assessment.
"We know we have some work to do with this class, but the trend is moving in the right direction with more and more of our class of 2020 students meeting standards in reading and math each year," Martinelli said.
In Falls City, Superintendent Jack Thompson said, as in Central, many of the juniors who took the test had already achieved their essential skills.
The Class of 2017 scored college and career ready at 50 percent for language arts and 30 percent on math. That changed from 65 percent and 25 percent last year, respectively.
"We start testing them on their essential skills back as sophomores," Thompson said.
He added that the district emphasizes that juniors are supposed to perform their best on the test, but that doesn't always happen.
Thompson said he attributes the gains made in math to new Common Core-aligned curriculum added last year.
"I'm hoping that trend will continue," he said.
Perrydale saw improvement at most grade levels in both testing topics, and dramatic improvement for last year's juniors.
In languages arts, level 3 and 4 scores were up to 71 percent from 54 percent. Math scores improved from 18 percent to 38.5.
Brazeau said he hopes as the Smarter Balanced system develops, the data will become more valuable and be available to districts sooner so they can make better decisions about student placement.
"I think it is valuable to assess and to use those assessments appropriately," Brazeau said. "We don't want to be chasing test scores. We want to keep our eye focused on the true goal of getting students college and career ready. If confident if we do that, the rest will take care of itself."
For more information, or to see more results: www.ode.state.or.us.