Wednesday, September 14, 2016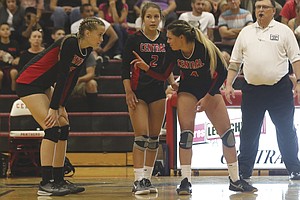 INDEPENDENCE — Trailing 6-0 in the fifth and final set against South Albany on Thursday, Central's volleyball team didn't panic. They weren't frustrated, despite seeing a 2-0 lead evaporate. In fact, they were the opposite.
"We told each other that we got this," Krista Omlid said. "This is our game."
The Panthers outscored South Albany 15-4 the rest of the way to earn the victory.
It was an early season victory, one that showed the Panthers might be growing up quickly on the court.
"Last year we would always lose in five games," Omlid said. "We were really bad under pressure."
For the team's seniors, Central had been winless in matches where they win the first two sets, but lose the next two sets.
"That happened to us twice last year," coach Claudine Mendazona said. "It's nice to be able to put that behind us."
A season ago, when faced with adversity, the Panthers shied away from the moment, letting their mistakes affect them.
"We had some issues last year where we would make a mistake and members of the team would be kind of rude about it," Omlid said. "If we made a mistake, people would get really down on themselves and nobody would pick them back up."
This year, players are more comfortable with each other, and the focus is on picking teammates up instead of riding them for their mistakes.
"Even though we have some underclassmen, we're more mature," Omlid said. "We push each other and give each other constructive criticism without people getting mad at each other."
Thanks to strong play from Omlid and others, the Panthers roared back to life just in the nick of time.
"The girls played well together," Mendazona said. "Krista had a tremendous night. She passed well and served well."
Central, which plays at Lebanon on Thursday before playing at the Dallas volleyball tournament on Saturday, may have earned the win over South Albany, but Mendazona knows improvements must be made to build on the victory — including helping the team's setters, freshman Sydney Nash and junior Erin Cole, get up to speed at the varsity level.

"We need to establish our middle blockers," Mendazona said. "We have two setters who are young, but very skilled. We need to keep developing them and getting them to learn exactly where the ball needs to go each time."
Thursday's victory was just a single match in a long season, Mendazona said. But for the Panthers, it was a match that signifies this year's squad won't shy away from the big moments.
"I'm proud of the girls," Mendazona said. "This season we've had to fight for everything we have."