Wednesday, September 14, 2016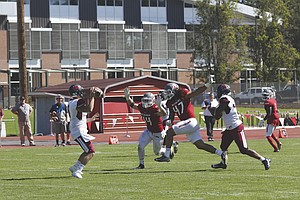 MONMOUTH — Western Oregon's David Ribich led the men's cross-country team by winning the Ash Creek Invitational on Friday.
The junior finished the 6.3-kilometer race with a time of 18 minutes, 53.8 seconds, finishing more than 13 seconds ahead of second place. The Wolves placed second in the team standings.
Sophomore Dustin Nading (eighth, 19:34.3), Justin Crosswhite (15th, 19:51.7), Josh Dempsey (16th, 19L58.0) and Tyler Jones (17th, 20:01.5) rounded out the scoring for WOU.
The women's team also placed second.
Nicole Maurmann led the women with a fourth- place finish in 17.33.0. Kennedy Rufener took sixth in 17:42.3, and Grace Knapp finished fourth in 17:56.5. Suzanne Van De Grift (17th, 18:26.7) and Lauren Kangas (26th, 18:47.8) rounded out the women's team scoring placers.
Western Oregon will compete at the Sundodger Invitational in Seattle Saturday at 9 a.m.
FOOTBALL FALLS TO WILDCATS: Western Oregon's football team dropped its home-opener to Central Washington 41-20 on Saturday.
The Wolves took a 10-6 lead after the first quarter, but trailed 13-10 at the half thanks in part to two first half field goal misses.
WOU tied the game at 13 in the third quarter, but Central Washington scored 28 unanswered to pull away for the victory.
Receiver Paul Revis had 11 catches for 132 yards, and Andy Avgi caught two touchdown passes to lead the Wolves.
Bo Highburger had 15 tackles, including five tackles-for-loss, to lead the defense.
Western Oregon plays at Montana State Saturday at 1:05 p.m.
VOLLEYBALL GOES 3-1 AT SHOWCASE: Western Oregon's volleyball team went 3-1 at the Division II West Region Showcase. The Wolves opened play with a 25-22, 19-25, 25-23, 25-8 loss to Concordia-Irvine on Thursday. WOU defeated Hawaii Pacific 25-19, 25-14, 25-23 and Chico State 25-20, 25-21, 26-24 on Friday before closing play with a 25-22, 25-23, 23-25, 25-17 win over Stanislaus State on Saturday.
Paige Orth and Alisha Bettinson led WOU with 13 kills against Stanislaus State. Bettinson also had 12 digs, while Maddie Mehciz recorded 55 assists. The wins were the first under first-year coach Tommy Gott. The Wolves open Great Northwest Athletic Conference play by hosting Northwest Nazarene on Thursday and Central Washington on Saturday in the team's first home matches of the season. Both matches are scheduled to start at 7 p.m.
SOCCER GOES 1-2: Western Oregon's soccer team defeated the Academy of Art 1-0 on Sept. 7 before falling to Stanislaus State 2-0 on Friday and Fresno Pacific 2-0 on Sunday. Senior Taylor Higa gave the Wolves their lone victory of the week, scoring in the 35th minute against Academy of Art. Freshman goalkeeper Caitlin Kastelic earned the shutout. Stanislaus State held WOU without a single shot on Friday — the first time in program history. Western Oregon and Fresno Pacific were locked in a scoreless match until the 79th minute, when Fresno Pacific scored on a header. The Sunbirds added an insurance goal in the 81st minute. WOU hosts Oregon Tech Wednesday (today) at 3 p.m. before opening GNAC play at Western Washington Saturday at 7 p.m.