Wednesday, September 21, 2016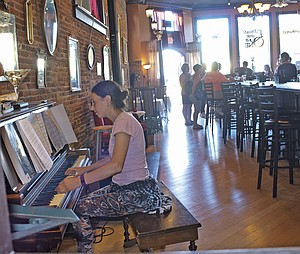 Dallas Downtown to host meet greet
Dallas Downtown Association will host a meet and greet Thursday from 5 to 7 p.m. at Latitude One, 904 Main St., Dallas.
The event will welcome Emma Guida to her position as the Program Manager for the association. Guida will be working on revitalizing downtown Dallas.
Western Oregon to hold open house
Western Oregon University will hold an open house for the Richard Woodcock Building of Education Friday at 4 p.m.
The building is on campus, at 345 Monmouth Ave. N., Monmouth.
For more information: www.wou.edu.
Pokemon Go hits MI downtown
Monmouth and Independence invites the public to spend Saturday from 1 to 4 p.m. playing Pokemon Go and enjoying downtown.
There is no cost to attend. Participating businesses in downtown Monmouth and Independence will offer specials and have opportunities for the public to get to know what they offer. No check-in is required.
Public forum on Measure 97 set
A public forum on Measure 97 will be held Thursday from 7 to 8:30 p.m. at Monmouth Public Library, 168 Ecols St. S., Monmouth.
Measure 97 is a statewide ballot initiative to increase corporate taxes on businesses with annual incomes that exceed $25 million.
The forum will address what the measure means to the public, how it impacts businesses and consumers and how the tax dollars will be used.
Representatives for and against the measure will provide opening remarks followed by a question and answer session.
There is no cost to attend. Registration is not required.
For more information: 503-838-1932.
HART fall family fair on Sunday
Horses Adaptive Riding and Therapy (HART) will hold its Fall Family Fair fundraising/awareness event Sunday from 1 to 4 p.m. at HART, 6665 Rickreall Road, Independence.
The program will feature equestrian performances, an appearance by Smokin' Doubledutch, the 2015 Breyer Horse Model and Miss Oregon Outstanding Teen Abigail Hope.
Arts and crafts, games, face painting, a silent auction and a special drawing for an Oregon Coast weekend getaway will be available. A barbecue lunch will be provided.
Tickets cost $15 for adults and $7.50 for children. Children ages 2 and younger are free. Family tickets are available for $40.
A large portion of the proceeds will benefit the recovery of Pete, a HART therapy horse who was seriously injured in a July accident.
Tickets can be purchased by emailing events@horsesadaptiveriding.org.
Free freedom from smoking offered
Monmouth Senior Center, 180 Warren St. S., Monmouth, will host a Freedom from smoking class Tuesdays through Oct. 25 from 6:30 to 8 p.m.
There is no cost to attend. The series, developed by the American Lung Association, will cover strategies to combat smoking, including self-monitoring, relaxation techniques, medication overview, social support and more.
Class materials, including a book and CDs are also provided without charge.
The class is open to all ages.
For more information: WVP Health Authority, 503-587-5129.
Friends of Felines to hold fundraiser
The Salem Friends of Felines will hold its 11th annual fundraising auction on Oct. 8 from 5 to 9 p.m. at the Oregon State Fairgrounds, 2330 17th St. NE, Salem.
The fundraiser is open to adults ages 21 and older.
Tickets are available for $40 and includes appetizers and beverages. A silent auction and live music by J.T. Meier will also be available.
The Salem Friends of Felines is a nonprofit/no-kill cat rescue group helping Marion and Polk counties.
All proceeds benefit the cats in the communities, and help cover medical care for injured and sick cats.
Tickets can be purchased online at www.sfof.org or at the group's thrift store at 980 Commercial St. SE, Salem.
Fundraiser for diabetes Friday
Rookies Sports Tap, 641 Clay St. E., Monmouth, will host A Night To Fight Diabetes fundraiser Friday from 6 to 11 p.m.
A silent auction and raffle will be held featuring prizes including Boise State vs. Oregon State football tickets, spa packages, movie tickets, pizza, beer and more.
Rookies is open to people under 21 until 9 p.m.
For more information: www.facebook.com/events/336284556711988/.
Dallas seniors put on music jam
Dallas area seniors present Swing Into Fall, a senior music jam session, Thursday at 6:30 p.m. The event will be held at the Dallas Senior Center, 955 SE Jefferson St. Singers, musicians, and music fans of all ages are welcome.
There is no cost to attend. Snacks are appreciated.
For more information: Michele Griffin-Campione, 503-507-5240.
Church to begin lecture series
St. Thomas Episcopal Church, 1486 SW Levens St., Dallas, will begin a lecture series Wednesday (today) at 7 p.m. Discussions will be based on the OPB program on one God and three religions.
There is no cost to attend, and the public is invited.
For more information: 503-623-8522 .