Wednesday, September 28, 2016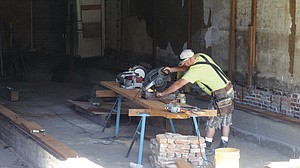 INDEPENDENCE — Layer by layer, Bodie Bemrose is stripping off the new and restoring the old at the Taylor's building at the corner of Monmouth and Main streets.
"I'm doing a complete renovation of the building to bring it back to what it would have looked like in the late 1890s," Bemrose said. "The building is over 130 years old, and had undergone many remodels over the years. It was very tired and in desperate need to be repaired and renovated."
He has to be careful removing the layers of remodel.
"Not just because you could accidentally knock the building down, but because of all the historic clues the building reveals about what went on and at what decade that is important so you achieve the correct look," he said. "The wood and steel has to go in one way — the way they did it 100 years ago — not how you 'think' they did it."
The job is extensive — in some ways, more so than Bemrose's recently completed work at the Cooper Building down the street from Taylor's.
"Everything is being addressed at the site — however with a careful eye to the details — and to be historically accurate," he said. "For example, the ceilings will go back to their original height at 16 feet, and the old mezzanine level in the back that was covered up from the 1960s dropped ceiling will now be exposed and utilized again. The brick will be exposed on the inside of the building as well."
Bemrose is also restoring an old storefront on Monmouth Street that had been covered up for decades.
"That is a potential smaller retail space," he said. "However, we're trying to find the right business – one that is quality and reminiscent of Taylor's. One that will make for a busy corner for the downtown again, like Taylor's was for so many decades."
Bemrose's attention to detail when it comes to restoring old buildings was acknowledged with awards from the state, including a Diamonds in the Rough Grant and an Oregon Heritage Excellence Award from the Oregon Heritage Museum.
Most recently, he was given the Outstanding Historic Renovation Project from Oregon Main Street on Sept. 15.
Bemrose said he enjoys the before-and-after stories after completing massive renovation projects on historic buildings.
"Seeing buildings that look impossible to save, and seeing what they look like completely renovated with new life in them that the community can enjoy and be part of," he said. "It's not for the money, I can tell you that. There are easier ways to make money."