Wednesday, April 12, 2017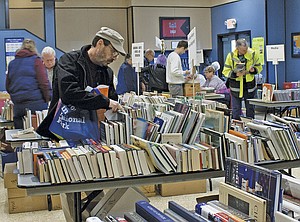 Author Hopkinson to visit Dallas
Award-winning Oregon author Deborah Hopkinson will read from her new book, "A Letter to my Teacher," at 4 p.m. on Thursday at the Dallas Public Library, 950 Main St.
The presentation will include a writing activity and a chance to pen a letter of thanks to a teacher, in time for Teacher Appreciation Day, which is the first week of May.
Copies of Hopkinson's book will be available for purchase.
MICC lunch to feature foundation
The Monmouth-Independence Community Foundation will be the speaker at Wednesday's (today) Monmouth-Independence Chamber lunch forum.
It is too late to order lunch, but you may still attend the forum.
The forum will be from noon to 1 p.m. at the Polk County Service Club, 340 S. Third St., Independence.
Forums are open to all chamber members, guests and friends, are held on the second Wednesday of each month. Registration is requested to help the host site properly prepare.
More information: micc@minetfiber.com.
Food for fines continues
The Independence and Monmouth libraries will celebrate National Library Week with a Food for Fines drive.
The annual event allows local library users to help the Ella Curran Food Bank while reducing their library fines. To participate in the Food for Fines program, bring any of the following items to your library through Saturday:
15 ounces or larger: canned fruit, vegetables, chili, soup (canned or dry), bottled or canned fruit juices; boxed hot or cold cereal, pasta products, pasta sauce, peanut butter, canned meats (especially tuna), cooking oil; or 5-pound bags of sugar, flour or rice.
For each item donated, the library will reduce outstanding fines by $1. Those who do not have overdue fines also may donate.
For more information: Monmouth, 503-838-1932; Independence, 503-838-1811.
Calligraphy class begins Tuesday
A series of three calligraphy classes begins Tuesday from 4 to 5 p.m. at the Extension Office, 289 E. Ellendale, Suite 301, Dallas.
Classes will also be held April 25 and May 2. Participants will learn the art of calligraphy, and create their own invitations, name tags, announcements, birth certificates and more.
No experience necessary. The class is open to people ages 8 and older. Each student will receive their own calligraphy pen to use and take home upon completion of the class.
Class size is limited to 10 students.
Cost is $5 for 4-H members and $7 for non-members for all three classes.
Registration is required by Friday.
To register or for more information: 503-623-8395.
Amateur radio tech class offered
A free amateur radio technician class license exam preparation class begins April 22 at City Council Chambers, 187 Court St., Dallas.
The class will be held weekly on Saturdays through May 27 from 8:20 to 11:20 a.m. In the event of an emergency, our primary modes of communication may be disrupted. Ham radio is a third-tier fallback mode of communication. The class will prepare participants to pass a technician class license exam.
There is no minimum age requirement.
To RSVP or for more information: deansprague64@ gmail.com.
Tickets for King's Ball available
Tickets for the King's Masquerade Ball Dinner and Auction on April 22 at Kings Valley Charter School, 38840 Kings Valley Highway, Philomath, are available through Saturday.
Tickets cost $10. Dinner choices are chicken gumbo or red beans and rice.
A silent auction begins at 5 p.m. with dinner following at 5:30.
A live auction will begin at 7:05.
On-site child care will be available for $5. Kings Valley Charter School foreign language students will provide hot dogs, popcorn and a movie. There will be two rooms — one for smaller kids and one for tweens.
For more information: Glenda Bush, gbush@ kvschool.org.
SomeThings to host Out & About
The Dallas Downtown Association will hold an "Out and About in Dallas" at Some Things, 857 Main St., Dallas, Wednesday (today) from 6 to 8 p.m.
An adult Easter egg hunt will be held and refreshments will be served. The quarterly events help provide a way for community members to socialize and network with other members of the community and business owners.
For more information: Emma Guida, 971-701-1880.
Logger forum set for Tuesday
The Marion/Polk Chapter of the Oregon Small Woodlands Association will hold a logger forum Tuesday from 7 to 9 p.m. at the Independence library conference room, 175 Monmouth St., Independence.
Information about logging, loggers and logging jobs will be available.
A moderated discussion will feature commercial loggers discussing their equipment, capabilities, limitations, costs and time frames.
There is no cost to attend and the public is invited.
MTAB to celebrate Arbor Day Saturday
The Monmouth Tree Advisory Board will hold an Arbor Day celebration Saturday at 9 a.m. at Main Street Park.
Monmouth will be recognized for the 15th year as a Tree City, USA.
Volunteers are needed to plant trees at Gentle Woods Park, Madrona Park and on the Hoffman Road planter strip. Please bring gloves and shovels.
For more information: Mark Fancey, community development director: 503-751-0147.
Brunk House to hold open house
The Polk County Historical Society will hold a spring open house at the Brunk House, 5705 Salem-Dallas Highway NW, Saturday from 9 a.m. to 2 p.m.
The Auto Clubs of Salem will have refurbished vehicles for visitors to enjoy. The master gardeners, who work mostly in the vegetable and berry gardens, will hold a clinic to answer any questions.
Attendees may take a tour of the Brunk House for a donation.
Pie, cookies and other desserts will be available.
For more information: Jo Ann King, 503-838-6603, or Polk County Museum, 503-623-6251.
PC Museum to feature McArthur
The Polk County History Museum will hold a special program featuring Scott McArthur Saturday at 1:30 p.m.
McArthur, a retired attorney, local historian, 49-year member of the Polk County Historical Society, and author of five local history books, will speak on short stories of strange things in Polk County.
Light refreshments will be available.
There is no cost to attend.
For more information: 503-623-6251.
Dallas Mat Club fundraiser begins
The Dallas Mat Club's flower basket fundraiser is underway.
Twelve-inch hanging flower baskets featuring petunias with various annuals are available for $30 each, made by Al's Nursery.
Orders are due by April 31. Flowers will be delivered by May 9.
All proceeds benefit youth and middle school wrestling programs in Dallas.
For more information: dallasmatclub@gmail.com.
Master Gardeners seek donations
The Polk County Master Gardener Plant Sale Country Store is seeking tax-deductible items they can repair or repurpose for a fundraiser in May.
Items are needed now to allow time to make repairs.
The Polk County Master Gardeners are a 501(C)3 nonprofit. Among the items needed include metal or wood objects, old gates, bottles, vases, notable dishes, garden pottery, tea cups, pitchers or bowls, bird houses, bird feeders, patio furniture, plant stands, iron implements, collectible antiques, and items that can be repurposed to be useful in a new way.
Master Gardeners can arrange to pick up items.
To arrange a pickup, Rachel Montesano: 917-219-5629.
Funds from the Master Gardener plant sale benefit Polk County libraries in Dallas, Independence and Monmouth, fund plant clinics for the public, and help with supplies for demonstration gardens in Polk County.
For more information: 503-623-8395.
River Gems returns to fairgrounds
The 62nd Annual River of Gems, presented by Willamette Agate and Mineral Society, returns to Polk County Fairgrounds, 520 S. Pacific Highway W., Rickreall, Friday through Sunday.
The event will be open from 9 a.m. to 5 p.m. on Friday and Saturday, and 10 a.m. to 4 p.m. on Sunday.
Cost is $2. Children 12 and younger are free.
Rocks and gems, jewelry, fossils, beads and minerals from around the world will be on display.
There will be dealers specializing in a variety of items from crystals to silver, display cases with rocks, gems and collections from across the globe, and create craft demonstrations.
There will also be free door prizes, a silent auction, grab bags, popcorn and a snack bar.
Friday will be dedicated to school children.
Content marketing class offered
A free electronic media content marketing class will be held Thursday at 6:30 p.m. at the Independence library, 175 Monmouth Ave.
The focus will be on using words and images to engage clients, customers and donors to drive action.
The Salem chapter of SCORE — a service core of retired executives and part of the U.S. Small Business Association and Constant Contact — will sponsor the event.
There is no cost to attend, but registration is recommended.
For more information: carol@carolinfranca.com or call 503-623-0112.