Wednesday, April 19, 2017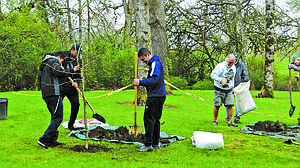 DDA meeting at Pressed
Dallas Downtown Association will hold a general member meeting Wednesday (today) at 6 p.m. at Pressed Coffee & Wine Bar, 788 Main St., Dallas.
Guest speakers will be Scott and Tammy Noon of Dallas Vitality Connection.
Dallas library to feature Jim Rupp
Dallas Public Library, 950 Main St., Dallas, will feature the artwork of Dallas resident Jim Rupp during April. Rupp draws inspiration from the scenery around him. His medium of choice is acrylic.
The display will focus on barns and birds, with a few surprises. Many paintings are available for sale, as well as prints and cards.
If interested in purchasing artwork, contact Jim Rupp, 104rupp@gmail.com.
Monmouth to hold Earth Day event
The city of Monmouth will hold an Earth Day celebration Saturday from 9 a.m. to noon at Madrona Park, 1521 Madrona St. E., Monmouth.
Volunteers are needed for weeding, planting and spreading bark in the native plant beds at the east end of the park. Bring gloves, rakes and shovels.
For more information: Mark Fancey, 503-751-0147.
Chemeketa to celebrate 40 years
Chemeketa Polk Center, 1340 SE Holman Ave., Dallas, will hold an open house on April 26 from 5 to 7 p.m. to celebrate Chemeketa's 40 years providing higher education to residents in Polk County.
Guests will enjoy entertainment and light refreshments. Community leaders will speak at 6 p.m.
The public is invited to attend.
Information about what Chemeketa Polk offers, including college transfer degrees, professional degrees or certificates, and earning a GED, will be available.
Chemeketa Polk offers classes at Polk Center and World Gym in Dallas, and College Hall at Central High School, and Henry Hill Community Center in Independence.
Dallas Garden Club meeting at EBC
Dallas Garden Club will hold its monthly meeting Monday at 6:30 p.m. in the Builders Room at Evangelical Bible Church, 1175 SE Howe St., Dallas.
Ann Detweiler, of Fry Road Nursery in Albany, will speak on hardy fuchsias. Light refreshments will be served.
The public is welcome to attend. Club membership is open to men and women.
For more information: Mike Stewart, 503-510-3293.
One-man drama show at Salt Creek
Professional dramatist Chuck Neighbors will perform at Salt Creek Baptist Church, 15075 Salt Creek Road, Dallas, Sunday at 10:50 a.m. Neighbors will perform his one-man show, "Not the way I heard it."
Since 1974, Neighbors has performed in the U.S., Canada, Japan, Korea and Africa.
There is no cost to attend.
Indy Commons to offer business class
Indy Commons, 278 S. Main St., Independence, will offer a free business class Wednesday (today) at 5:30 p.m.
The class will cover the question, "how social does my business need to be?"
The class will go over the basics of different platforms and discuss tips and tricks. A round table for businesses to share what has and hasn't worked for them will follow.
To register or for more information: 503-930-4840 or kate@indycommons.com.