Wednesday, April 19, 2017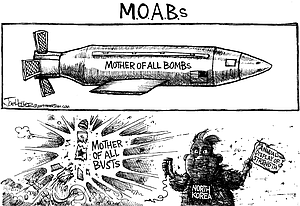 The planter boxes of Court Street have been spruced up, thanks to efforts from Dallas public works employees pulling weeds and laying fresh bark.
At the same time, chicken bones lay in the parking lot at the Itemizer-Observer, stacked like some kind of ancient ritual.
We'll get those swept up, but it is a reminder of the trash throughout downtown. Often on walks around town, we notice paper or plastic cups, napkins, and other rubbish cluttering the streetscape of downtown. Weeds grow in the planter boxes with spring flowers.
The Dallas Downtown Association has organized a communitywide cleanup day on Saturday from 9 a.m. to noon.
This is the first time in a long time that an effort has been made to rally the community to take responsibility for cleaning its downtown area, and we're excited to see it happen.
Dallas is a beautiful place. This summer, downtown will be the site of Summerfest in July, and the Great American Eclipse events in August. Thousands of guests will walk the streets of downtown.
Saturday is Earth Day, and what better way to spend the day than to clean up our city.
Whether you're a business owner or resident of Dallas — or if you just want to feel good about the way you spend your Saturday morning — come down to Pressed Coffee & Wine Bar at 9 a.m. and be ready to put in some elbow grease.
Many hands make light work, and the more who show up to help, the more projects will get done quickly.
If you can't make it, do your part by picking up the garbage you see on the streets. Trash cans are placed on each block in downtown, so you won't have to carry it very far before putting it in a rubbish bin.