Wednesday, April 19, 2017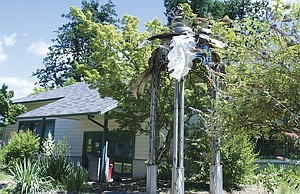 FALLS CITY – The Wagner Community Library is asking for people to take a survey on possible support of a ballot measure to fund library operations.
Falls City residents should receive a copy of the survey in their next water bill, and paper and electronic versions will be available at the library, 111 N. Main St., Falls City.
"Hopefully we can get enough people to take the survey that we can get a clear answer on how a vote would turn out, so that it would tell us definitively how to proceed with a ballot measure," said Andy Rommel, the library director.
Operations currently are being paid for with the remainder of the Wagner Trust Fund, which was dissolved and released to keep the library open while a funding solution is found. If the survey shows there isn't enough support for a ballot measure, there aren't many options left.
"If this survey show that it's not going to be supported, it's a write off," said Councilor Tony Meier, who is the council's representative on library advisory board. "There's just not much of anything else we could do."
Falls City Mayor Terry Ungricht said the issue also will be discussed at the city's budget committee meeting on Thursday.