Wednesday, April 26, 2017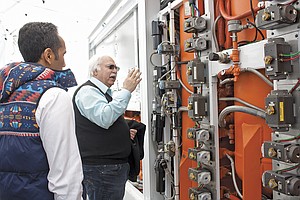 DALLAS — The man who sold the former Tyco Building in Dallas to American Gas & Technology will have part of the facility named after him.
All future employees will train at the Harvey S. Fink Welding School at the facility, now primed to begin production of natural gas liquefiers.
AG&T Chief Executive Officer Ray Tate announced the school and presented an award to Fink at the business' open house on Thursday. Richard Ballew accepted the award on behalf of Fink, who was too ill to attend the event. Ballew is the real estate agent who help broker the deal.
"The frail man who owned this property had an offer on this building that was more than we were willing to pay," Tate explained to the open house crowd. "He said, 'But I want to sell it to you guys, because I want the jobs for the community of Dallas. They need the jobs so badly.'"
The building needed a buyer who intended to repair it, Ballew said. He said Fink had to reclaim the building from the previous owner, and it was in poor shape.
"There were 225 five-gallon buckets catching leaks, plus 55-gallon barrels catching leaks," he said. "It was raining in here, even when it wasn't raining when Harvey and I first (had to take the building back)."
Now under the care of AG&T, the facility is leak free and the production floor clean once again.
"I spent most of the summer on the roof," said Chris Smith, who oversaw restoring the facility. "We took down a lot of walls."
Thursday's open house included a tour of the building and demonstration of a natural gas liquefier prototype. The machine takes natural gas straight from the utility, filters and chills it, and converts it to liquid for use as fuel in vehicles converted to run on liquified natural gas.
Tate said the technology could be applied to landfill gas and gas produced in oil fields.
"We could take any of those three, or biomass, and put the gas into this machine," Tate explained to people on the tour, which included representatives of interested investors.
AG&T can build the stations in three sizes, depending on the needs of the client, at 300 gallons, 1,800 gallons and 5,000 gallons.
Tate said the company is working on financing through investors and through a public offering, and could be gearing up for some production as soon as mid-summer.
"We are in the middle of our production financing and that is why they (investors) flew out, to see the building, to see the liquefier, to see our team," Tate said. "We think we are going to get the production financing put to bed in the next 60 days."
Tate said the company has filed with the U.S. Securities and Exchange Commission for a public offering.
"We've already gotten back a comment letter from them and our attorneys, and accountants are answering the comment letter, so if we run into problems, we will then be selling stock," Tate said. "We can sell it to anybody because we will be a public company."