Wednesday, April 26, 2017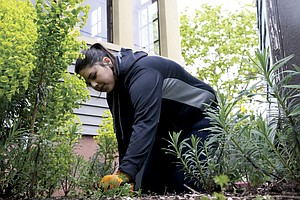 Celebration of Tree City Saturday
Independence will celebrate five years as a Tree City USA.
The Polk County Master Gardeners will host an event Saturday from 1 to 4 p.m. at Inspiration Garden in Mount Fir Park to mark the occasion.
The garden areas will be open for attendees to walk through and learn about some of the trees that have been planted since 2013.
There will also be demonstrations of propagation methods, and Master Gardeners will be available to answer questions.
Dance school to perform Tuesday
The Polk County France School of Dance will perform at Dallas Retirement Village, 225 NW Jasper St., Dallas, Tuesday at 6 p.m.
Children ages 4 to 18 will perform tap, ballet, pointe, jazz, hip hop, and lyrical routines.
In total, 18 dance numbers will be performed. The program is expected to last about 90 minutes.
The France School of Dance will hold its spring recital/food drive at LaCreole Middle School on May 16 at 6 p.m. All proceeds from the drive will benefit Dallas Food Bank.
For more information: Linda France Martin, 503-390-3481.
Easter Gospel Jam set for Thursday
Dallas Senior Center, 955 SE Jefferson St., Dallas, will host an Easter Gospel Jam Thursday at 6:30 p.m.
Old-time gospel music will be performed.
There is no cost to attend.
Musicians are invited to attend and share their talent.
Attendees are encouraged to bring a favorite finger food to share.
For more information: 503-623-8554.
Artists sought for art and wine walk
The Dallas Downtown Association is seeking artists for an Art and Wine Walk in Dallas on May 21 from 2 to 6 p.m.
Deadline for committing to the event is May 5. There is no cost to the artists.
The event is put on by a class in the business program at Oregon State University. Each year, a class chooses a rural community to put on a wine walk, and the DDA received a small grant to involve local artists with the walk.
The event is expected to draw between 400 and 600 people. Artists will have a chance to have their artwork displayed at wine tasting venues. A brochure will be produced with photos and bios of the artists.
For more information: Emma Guida, emmagdda@gmail.com.
FLC to offer money management class
Faith Lutheran Church, 200 Monmouth-Independence Highway, Monmouth, will hold a seminar on money management on May 20 at 9:45 a.m. There is no cost to attend.
Topics covered will include avoiding identity theft, being wise with money, saving for retirement, and living generously. Ron Mohr will present. Refreshments will be provided.
Pre-registration is required by calling 503-508-7094 or email to yrnursery@peak.org.