Wednesday, April 26, 2017
DALLAS — The man arrested last week in connection with a fatal motorcycle crash on Highway 22 will face manslaughter and criminally negligent homicide, along with five other felonies.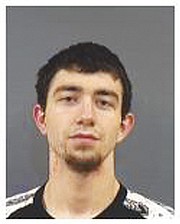 Brendan James Duck, 19, of McMinnville, is due back in court for a preliminary hearing on Thursday at 1:14 p.m.
The Polk County District Attorney's Office filed seven charges against him on April 18: Second-degree manslaughter, criminally negligent homicide, failure to perform the duties of a driver to injured persons, unauthorized use of a motor vehicle, first-degree criminal mischief, second-degree arson, and possession of methamphetamine.
Police originally arrested Duck on five charges, not including manslaughter and arson.
He remains in custody at the Polk County Jail on $200,000 bail.
Oregon State Police began investigating the case on April 14 at about 6:30 a.m. as a motorcycle crash.
The victim of the accident, James Rudolph Osredkar, 43, of Sheridan, was the driver of the motorcycle. He died of his injuries.

Shortly after arriving on the scene of the motorcycle crash, OSP was notified of a vehicle fire on Ford Street in Rickreall.
OSP determined that the vehicle had been reported stolen out of Lincoln County several days earlier. Evidence at the scene of the motorcycle crash links the stolen vehicle to the fatality, OSP reports said.
Police interviewed Michala A. Brown, 22, also of McMinnville, about the case, and arrested her on a probation violation.