Wednesday, April 26, 2017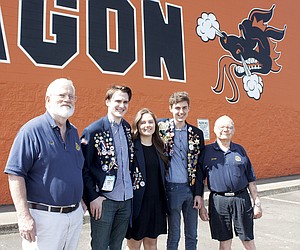 DALLAS — For Dallas High School senior Maurice Dalton and sophomore Lindsey Krumroy, a chance to discover a foreign language and culture was irresistible.
They received letters from Dallas Rotary at the end of their freshman year inviting them to participate in the organization's youth exchange program during their junior year. They accepted.
"I was also interested in seeing what it would be like to go to a place and live my whole life where there's not a single person I've previously met," said Dalton, who spent last year in Berlin. "Totally clean slate, fresh start, to see what that is like."
Krumroy, who will spend next year in Finland, said her first thought about the prospect was "why not?"
"I wanted something new. I wanted to go do something that wasn't normal," she said. "I've been friends with a lot of exchange students, so I've heard a lot about exchange, and it seems like something that would be fun to do."
Rotary sponsors the exchanges working with districts in other countries, so students can rely on the familiarity and support of Rotary before and throughout their year abroad. Krumroy is attending classes preparing her for the inevitability of culture shock and learning to communicate when you don't speak the local language well — or at all.
"There's a series of orientations and trainings where they teach us about different things, like culture shock and things like that," Krumroy said. "They had us do exercises, like they had us create a random language and we had to communicate without them understanding what we are saying."
Clint Branum, the Dallas Rotary youth exchange coordinator, said the program looks for high school freshman interested in the travel year. Rotary is hosting an informational meeting for students and parents at DHS at 6:30 p.m. on Tuesday. Students don't have to belong to Rotary to participate.
Alexander Finch, who is from Germany, is spending a year in Dallas. His older brother participated in an exchange, so he was eager to have the same experience.
"I got really excited because I really love traveling. I really love the language and wanted to get to know new people. That's why I wanted to do it. It's really fun," Finch said. "I was lucky. I got really good host families that helped me in all the ways they could."
Dalton had a similar experience.
He said his host family helped make the most of his visit.
Dalton didn't have much time practicing German before he arrived, a problem his hosts had a solution for.
"My host family said, 'OK, we are going to put you in a four-week intensive language course. Then after that, you can't speak English anymore,'" he said.
They didn't stop there. Dalton had to learn to ride trains and buses in Berlin.
"They really pushed to get me on my own feet and operating on my own as soon as possible," he said.
He's grateful for the independence they gave him and enjoyed his time in Germany so much he's hoping to attend college there.
Krumroy said she's in contact with a student on exchange in Finland this year.
"She tells me a lot about it. She loves the food there," she said. "She said she likes the freedom to go with her friends."
The more she learns about her host country, the more Krumroy is excited to take the trip.
"I'm looking forward to living completely different than I do now and learning a different culture," she said.
Branum said, in addition to student candidates, the club is looking for host families to open their homes to students from other countries.
"In this club, and most of the Rotary clubs have more than one host family for the students, to give them a broader sampling of our culture. We try to have three," he said. "We are always looking for host families, because people aren't always aware of the program or aware of the real fun in doing this."
For more information: Clint Branum, 503-623-4879 or clintbranum1
@gmail.com.
Monmouth-Independence Rotary also sends and hosts students through the Rotary Youth Exchange Program.
For information on M-I Rotary's program: contact M-I Rotary Club Youth Exchange Officer Bob Archer, bgrantarch@gmail.com.
M-I Rotary Club's outbound student for the next school year is McKyla Jackson, who will be visiting Finland.