Wednesday, April 26, 2017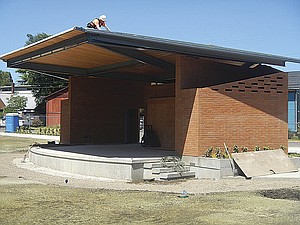 MONMOUTH — Monmouth city officials and councilors butted heads with organizers of the Applebox Childrens Theater at the April 18 city council meeting.
The council chambers were filled with ABC Theater supporters wanting to plead the case for allowing the children's theater company access to the new Monmouth Main Street Park Amphitheater.
After a heated back-and-forth between Mayor Steve Milligan and ABC Theater volunteers, the council adjourned the council meeting to move into the work session, where the discussion was on the agenda.
The organization requested use of the facility for its rehearsals and performances, in total, about 45 days in June and July.
"That's half the summer," Councilor Royal Johnson said. "To me, that's 45 days you've asked to use the amphitheater, according to your form."
Rob Harriman, of ABC Theater, said that some rehearsals could be performed on the outdoor stage at Western Oregon University, but they submitted their entire rehearsal schedule so that the city could understand the scope of the production.
Other requests of the theater included opening the wings of the amphitheater, using the built-in storage, using the city's sound system, and hanging sets, which would mean putting holes in the structure.
Community Development Director Mark Fancey said the parks and recreation board spent "considerable time" developing the rules of the new amphitheater and wanted to see how the facility would be used over time before altering those rules.
"One particular group should not be able to break the rules," he said.
Harriman said the stage was built beautifully for music, but not for accommodating theater troupes.
He said the group could drape sets on the walls without installing eyehooks or drilling holes, but someone would need to unlock the wings so they could be opened.
The wings of the amphitheater present a safety hazard, City Manager Scott McClure said after the meeting.
"The panels/doors can get caught in the wind and cause a 'sail' effect," he said in a follow-up email. "This is why we only want authorized staff to open and close these."
After about an hour of discussion, Harriman said representatives from the theater group will speak with the parks and rec board at its May 10 meeting to determine what its members can do to accommodate the troupe's requests.
Councilors and Milligan agreed that the council wanted to respect the work of the parks and rec board in creating the policies and rules of reserving the new facility.
"If they can't solve the problem, they can come back, but we're not here to make that decision," Johnson said.
"You guys built an amphitheater for music," Harriman said. "So now we're stuck in a facility that wasn't designed to do plays, and we're trying to work with that."
To view the council meeting and this portion of the work session: www.youtube.com/watch?v=bI3GS5752so&feature=youtu.be