Wednesday, August 2, 2017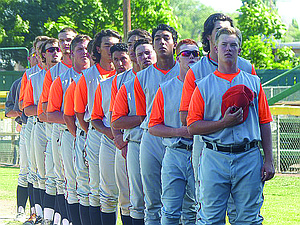 KLAMATH FALLS — The Demarini Dirtbags entered the American Legion state baseball tournament hungry for success.
What followed was an up-and-down journey culminating in a second-place finish, falling just short of the state title.
The team entered the championship round on Sunday needing to beat Medford twice to take home the championship, but lost 11-9 in 10 innings.
"Medford is just a scrappy team," Dirtbags coach Scot McDonald said. "They hit really well. They're four-time state champions for a reason. They don't make mistakes. It's not that we made mistakes, but they just clutched up and beat us in extra innings."
The Dirtbags opened the tournament on July 26 with a 17-5 win over Albany before earning a 20-10 win over Portland on Thursday.
"Our bats were on fire," McDonald said. "We played and pitched really well. Those first two games we had 37 runs and 50 hits. It was like, holy cow. This is going exactly as planned."
The Dirtbags raced out to a 7-0 lead over Medford on Friday, but gave up 19 unanswered runs to get knocked into the losers' bracket and a matchup with Eugene on Saturday.
The Dirtbags fell behind 4-0 through four innings before rallying for a 9-5 victory.
"Jaret Stewart pitched a complete game for us and retired the last 13 batters of the game," McDonald said. "He was tough."
The Dirtbags, which featured players from Dallas and Central high schools, as well as others in the Willamette Valley, received key experience that will serve them — and their high school teams — well.
"Some of these kids had not been a situation like that before," McDonald said. "It's a great experience to take to their teams. You give up a big inning then you have a big inning. It can be really tough, and it makes you learn how to handle things."
For Dirtbags players returning to Dallas, the experience gained competing against the state's best players will be invaluable.
"Jaret didn't lose all summer," McDonald, who also coaches Dallas' baseball team, said. "He wants the ball. He's a guy you can go out and know you can win with him on the mound because he's going to perform. Eric Kessler got an opportunity to pitch a lot. We'll be able to incorporate that more next year. Treve (Earhart) is a leader behind the plate. He also had some big, clutch hits for us."
While the Dirtbags' trip to state didn't end with a title, the team advanced to the championship round for the first time in program history.
"I think that's a pretty awesome accomplishment," McDonald said. "Obviously you want to win it, but it is what it is. We had tons of compliments about how we played the game. I think we demonstrated what a true Dirtbag player is."