Wednesday, August 2, 2017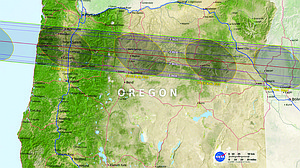 POLK COUNTY — The moon will cast its shadow over Polk County the morning of Aug. 21 during the Great American Eclipse. But what's the big deal?
The eclipse will take nine minutes to cross the state of Oregon. It will be done in less than two minutes in Polk County — so why all this excitement?
Eclipses happen all the time on earth — a lot of times, a total solar eclipse happens over the ocean, so just the whales can enjoy it, said John Farmer, marketing and communication manager for the Oregon Museum of Science and Industry.
"Leave it to America," Farmer said. "We're calling it 'the Great American Eclipse.' The last time we had a 'Great American' eclipse was in 1919, but it's been a while since we had a total solar eclipse basically traverse the entire country."
When it comes to an eclipse, timing is everything. The total solar eclipse on Aug. 21 has it all.
"For people who do this sort of thing, it's a big deal," Farmer said. "This is like the World Cup. It only comes so often."
A couple factors contribute to making this eclipse so special.
The first one is because it is in Oregon — and Oregon will see it first, Farmer said.
"In 1979, it went through Oregon, hit the tip of Idaho, Montana, and then went into Canada," he said. "Another reason this is special is because the weather in the Willamette Valley is generally favorable. August is generally good. This time of year is super favorable to viewing."
The time of day — 10:18 a.m. in Salem — is also good, Farmer said.
"It's prime viewing time," he said. "It's not happening super late or super early. The huge tourism boost from Oregon — Oregon's expecting 1 million visitors."
Another factor is location. Cities in Polk County will be in the moon's inner shadow, or the direct path of totality, when the moon will completely eclipse the sun.
"Cities like Portland and Eugene will be about 99 percent (eclipsed)," Farmer said.
Anyone who views the eclipse from outside of totality will need to wear eye protection the entire time — and 99 percent totality is not 99 percent of the fun.
Part of the excitement is what you will be able to see while the sun's surface is blocked, said Jim Todd, OMSI director of space science education.
"When the shadow's right over you during totality, you can look up and you can see Mercury, Mars and Venus," he said. "You'll see the bright stars, and maybe — if we're lucky — we'll see a Perseid meteor shower here and there."
Todd said the chances are slim to see a meteor — the peak of the Perseid meteor shower is Aug. 12 — but the debris path is a 14- to 20-day window, so it's possible.
"The night sky and right overhead only lasts for two minutes, of course, but an hour before and after we'll have the partial," he said. "We'll see the progression, and then it moves away. It's very important to wear viewing glasses at all times before and after totality. They need to be certified for viewing. Sun glasses will not do it. It's too dangerous. It's not worth it."
To ensure you don't miss the opportunity to see this celestial event, Todd suggests to watch the weather, be flexible, and be mobile.
"You need a good view of the southeast," Todd said. "It will be roughly 40 degrees on the southeast horizon. It's good to have a good horizon to experience totality, to see as much as you can of the stars and the eerie twilight surrounding you."
And, the only way the sun's corona is visible is when its surface is blotted out, Todd said.
Birds will roost and pets may be anxious and nervous.
"They can't look at the sun, but they'll notice something has changed," he said.
The temperature will drop about 10 degrees, Todd said.
Another fun thing is just before and after totality.
"A split second, you'll see what's called the diamond ring," Todd said. "There's been couples where a guy wants to propose to a girl at the diamond-ring effect. I tell them, 'If you propose at that point, when totality has just started, you're going to be waiting two minutes for an answer. There's a second diamond ring (after totality). Do it then.'"
Todd remembers seeing the eclipse in 1979, when he was a senior in high school in Portland.
"It was overcast," Todd recalled. "I can still remember what I was doing that day. The same thing is going to happen this August. They're going to remember. It's unlike anything you've ever seen."
Even though an eclipse happens every year, to have it in our own backyard is a rare treat, Todd said.
"There won't be another one across Oregon for 154 years," he said. "You're standing there in the shadow of the moon. The umbra is touching the earth, and you look up at the shadow above you. Many people say, 'I want to be there for it.' That's what all the excitement is about."
The event can be life-changing.
"It's a spiritual event, scientific, romantic," Todd said. "Even if you don't have a lot of (science) background, it's something to behold."
Planning is crucial.
"Treat it like a snow day," Todd said. "Give yourself extra time. Get there early. Stay put, and leave later."
Todd, who has served on the eclipse planning task force for the governor for the last two years, said Oregon's state agencies are as ready as they can be.
"It's daunting, to say the least, but we're hoping that people will come to Oregon and have a good time and leave on a good note," he said.
Many unknowns could affect viewing for residents and visitors, including wildfires in Central Oregon or marine air on the Coast. Many who have reservations on the Coast may discover a foggy Monday morning and head east, Todd said.
"There could be people not knowing what they're doing," he said. "There could be tempers flaring. I would not want to be on Highway 101."
Todd said that with the influx of visitors and people on the highways to stay put.
"Don't go to work that day," he said. "Take a vacation. Take the day off. There are many folks who will have to still run restaurants and gas stations. They'll feel a little left out to meet the demands. Hopefully many of these folks will be open all night because people will be dashing to find their clear skies."
Wherever you go, expect company, Todd said.
With 1 million visitors flocking to the state, more specifically, to the moon's shadow for totality, it's going to be crowded.