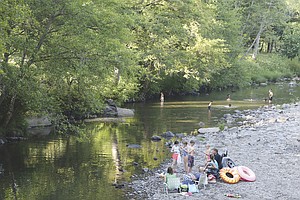 POLK COUNTY – After a three-day heat wave, temperatures in Polk County should see a slight dip in the next week.
The heat came in on Aug. 1 at 101, beating the previous record of 100 in 2015, and didn't stop. Aug. 2, the high of 107 shattered the previous record of 102, set in 1939. Thursday's high of 103 broke the record set in 1952 of 102.
"We are nearing the top 10 warmest summer on record," said David Bishop, meteorologist with the National Weather Service in Portland. "We're kind of in this weird tie as it stands right now … with the 2006 average and the 1985 average."
Oregon is getting into its summer systems, Bishop said, which is why temperatures are warmer. While the 107 on Aug. 2 was hot, it wasn't the hottest Polk County has seen.
"For your all-time high records, there was 108 that occurred in 1991; once in 1941, and once in 1927," he said.
This weekend's temperatures are expected to head back into the 90s, with the first day of the Polk County Fair on Thursday forecast in the high 80s.
A high-pressure system settling over the Pacific Northwest is what caused the heat wave, Bishop said.
"This high-pressure system is slowly moving out of our area, which is one reason we're seeing a slight dip in forecasted high temperatures," he said. "That does not mean there is not another system that will be the same, worse, or significantly weaker."
The summer has a long way to go to top the driest streak the Willamette Valley has seen. Right now, the record stands at 71 days without measurable rain, Bishop said. The Salem area, where Polk County's records are kept, has gone 48 days without measurable rain.
"By measurable rain we mean at least 0.01 inches," Bishop said. "The last time you guys got rain was June 16."
As for the smoky haze in the area, that has been mainly from fires in British Columbia, Canada, Bishop said, as well as the Whitewater Fire near Mount Jefferson.
Oregon Department of Environmental Quality has issued an air quality alert through 7 p.m. on Tuesday because of the smoke.